Welcome to the second ever edition of Buy The Look! We find awesome looking manly furnishing design settings, and then we trawl google so you can purchase the products seen in the awesome design photo! We do our best to find the main products in the above photo, but where we can't we will strive to provide an alternative which is faithful to the overall theme of the furnishing.
Disclosure: The links present in this article direct you to amazon.com. As an Amazon Associate I earn from qualifying purchases. For more information see our About section.
1.Chesterfield Leather Chair
NEAR MISS! It's difficult to find a chair with the exact design specifications (if you do, let us know in the comments) but, really, any 'leather chesterfield' will have the desired badass vintage effect. The one above, from Amazon, is reasonably priced compared to many you will find. Or, if you're looking for something slightly different, we really like the look of these oxblood red leather chairs from Ebay. These type of chairs can be pricey, however we're willing to bet that they can survive a nuclear bomb, in fact this would probably make them look even more vintage.
Buy: Amazon
 2. Rustic Wooden Shelve Brackets
HIT! These were featured in our last Buy The Look. Turns out this rustic wooden shelf style is pretty poplar. Obviously it will involve some assembly, grab these above industrial pipe brackets, forged from iron, do some measurements in your new bachelor pad and grab some rustic wood (link below). After a bit of DIY you'll be one step closer to a manlier living space.
Where: Etsy and Amazon
Rating: 50+ over 4 Stars
Buy Brackets: Amazon
Buy Wood: Amazon
UK based bro's can also grab something similar from Etsy for a reasonable price: Rustic, Reclaimed Wood and Steel Shelves. Industrial Shelf.
3. Kaibab 65″ Task Floor Lamp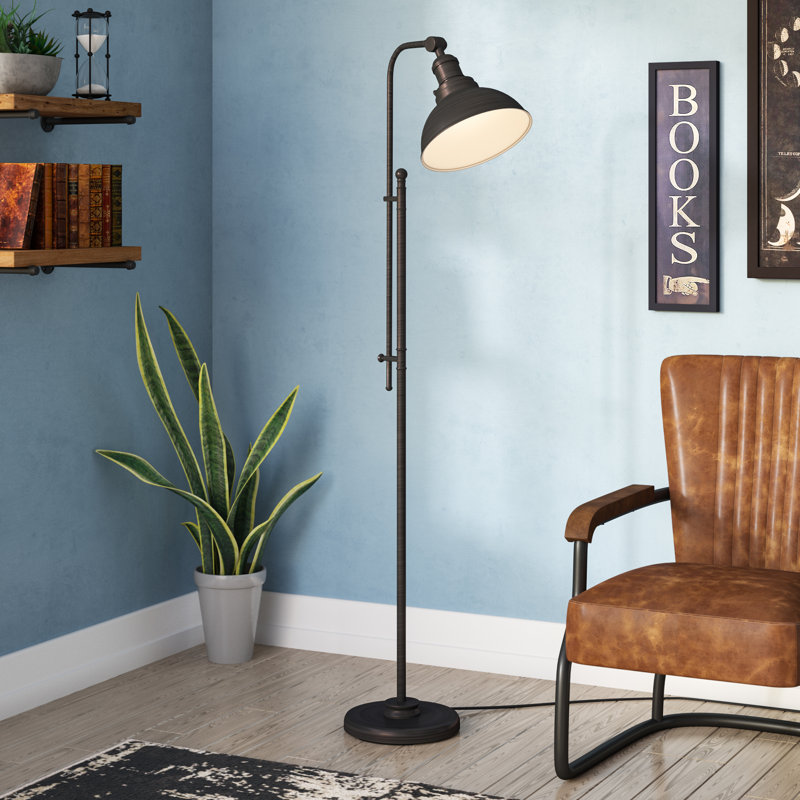 HIT! Boom! Another hit, this is the exact lamp featured in the image. Oh and by the way, if you like the look of that snake plant in the above photo then check out our hard to kill plant guide. The lamp is crafted from metal and awash in an aged zinc finish, the height of the lamp is also adjustable.
Where: Wayfair.com
Rating: 4.5/5
Buy: Wayfair
4. Logan End Table
HIT! Three in a row baby! This Logan end table, other than being named after the best X-Men movie, looks awesome, rustic and industrial. You can always, check out our other blog post specifically about side tables. Oh, and you see that book in the photo, well here are some reading suggestions.
Where: Amazon.com
Rating: 4.5/5 (only 2 reviews)
Buy: Amazon
5. Ottoman
NEAR MISS!    
Well, we couldn't find the exact ottoman in the photo, however we are pretty sure its some variation of an 'Indian ottoman', however why not get this matching Chesterfield ottoman to go with the chair? If not just have a search of Indian ottomans online.
Where: Amazon.com
Rating: 5/5 (just one review)
Buy: Amazon
Additionally…
You may want to pick up some awesome wall decor!