Lets talk the color wheel, invented by Isaac Newton and used by painters and interior designers alike, the color wheel is a useful principal to understand if you want to add a splash of color to your living space.
By their very definition man caves / male living spaces / masculine interior designs are usually hued with manly shades, right? That may be true for images of 'cool man cave designs' on Pinterest, furnished with black and dark browns (which of course do look awesome), but chances are, most of your apartment doesn't resemble a gentleman's club, and your walls and flooring are probably hued with neutral colors, other than white and black, neutral colors from a decorating perspective are browns and greys. Many are very light shades of green, or blue and yellow. These are shades are easy, light (which in turn will make a room lighter and look bigger) and easy on the eye.
If you want to add a splash of character to a neutral room, or match your wall or carpet color, then you can use the color wheel. This may also be useful to know if you have impulsively bought a great chair, or couch and are looking for pillows or a carpet to go with it. Without having to furrow your brow endlessly to decide whether or not two colors works well together, you can use the logic of Isaac Newton's color wheel. The below infographic on the color wheel should give you a good idea of how it works, and how you can use it in your house or apartment. Then, after some examples of living space which use the color wheel.
So, lets have a look at some of the above color schemes in action, and we're not talking about painting each walls each different colors, we can go more subtle than that, using the color wheel to accent your masculine living space with different items of furniture, like a pillow or a painting…
COMPLEMENTARY
Image link
Dark (very dark) green wall with complementary red pillows and carpet. The complementary color scheme is really hard to pull off from an interior design point of view, it's probably best to go with very dark colors, like the dark green above. Note as well the use of different shades of green on the bed for a subtle and interestong contrast effect.
                           Image link
Blue and yellow/gold. In the above blue is the dominant color and a saturated yellow is used sparingly as the accent color for a pretty effective look. The rest of the scene is a neutral look, with the dark brown wooden flooring, matching the darkness of the blue wall shade.
                           Image link
Another blue and yellow, with yellow used as the accent color.
                            Image link
Very dark navy blue and orange. Again, using very dark tinted furniture can offset the jarring complementary colors, these unsaturated blue and orange look really cool.
Image Link
Moody blue bohemian backround wall with orange accent art. The art really adds some pop to the room, which may otherwise have looked a bit basic and unimaginative.
                            Image link
And just to ram the point home, wouldn't a little dark orange pillow on that blue chair make this whole scene way less boring?
ANALOGOUS
                             Image link
green and yellow are an excellent analogous combination, make sure you get the right tints of the colours, particularly for the yellow, you want to avoid really bright yellow for bigger items, such as drapes (see below). If you are interested, I believe that type of couch it's called s 'Sven' in grass green.
Image link
Here is the same couch again in a similar analogous dominated color scheme, with those unsaturated yellow wall paintings and dark yellow, unsaturated drapes in the background, which work really nicely with the green couch. The cowhide rug is a nice touch too, as brown and white are neutral, they usually go with most decor – this cowhide rug from Amazon has an Amazon's choice sticker, there are many similar faux cowhides too, like this one (also with an Amazon's Choice sticker).
                            Image link
Yes, I like yellow and green! See how the combination nicely accents this largely neutral colored room, the dark blue walls also work nicely with the green couch as they are next to each other on the color wheel also.
                            Image Link
This design has used the green of the plants to nice contrast with the bright yellow pillows and throw. The black and white carpet also works amazingly with the decor. The rest of the decor is neutral in color with the brick accent wall.
Multiple shades of dramatic green blanket, pillow and wall – even with a green plant. We're not example sure if this is supposed to be some king of bed or not, but it certainly gives a good illustration of how you can use different shades of one color (green, in this example) to create a cool effect.
                            Image link
A great look with the analogous color scheme can be achieved by using varying shades of one color, blue works particularly well for this in the bedroom, blue being a calm color. They even have different shades of blue books – that is perhaps overkill, but you get the idea.
Image Link
Another cool blue analogous scheme of different shades of the same color, the wall paper is particularly cool in this one we think, it's got a nice distressed feel about it.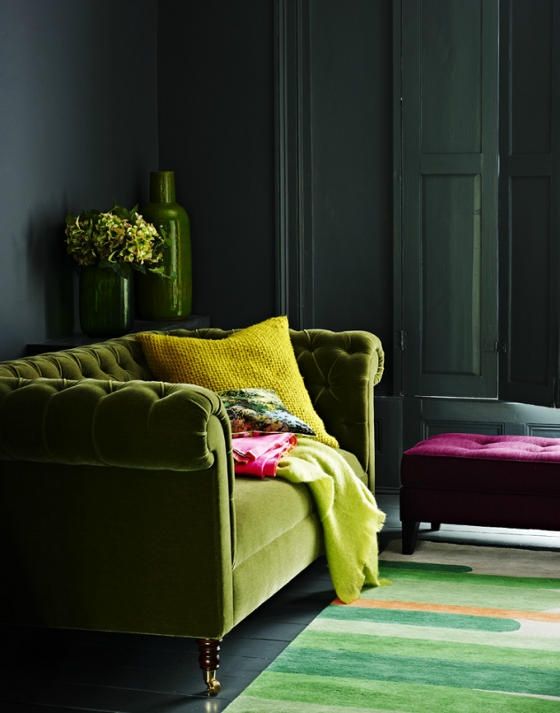 Image link
Varying shades of green. You could even argue there is use of the complimentary color scheme here with that red ottoman/seat thing on the right there!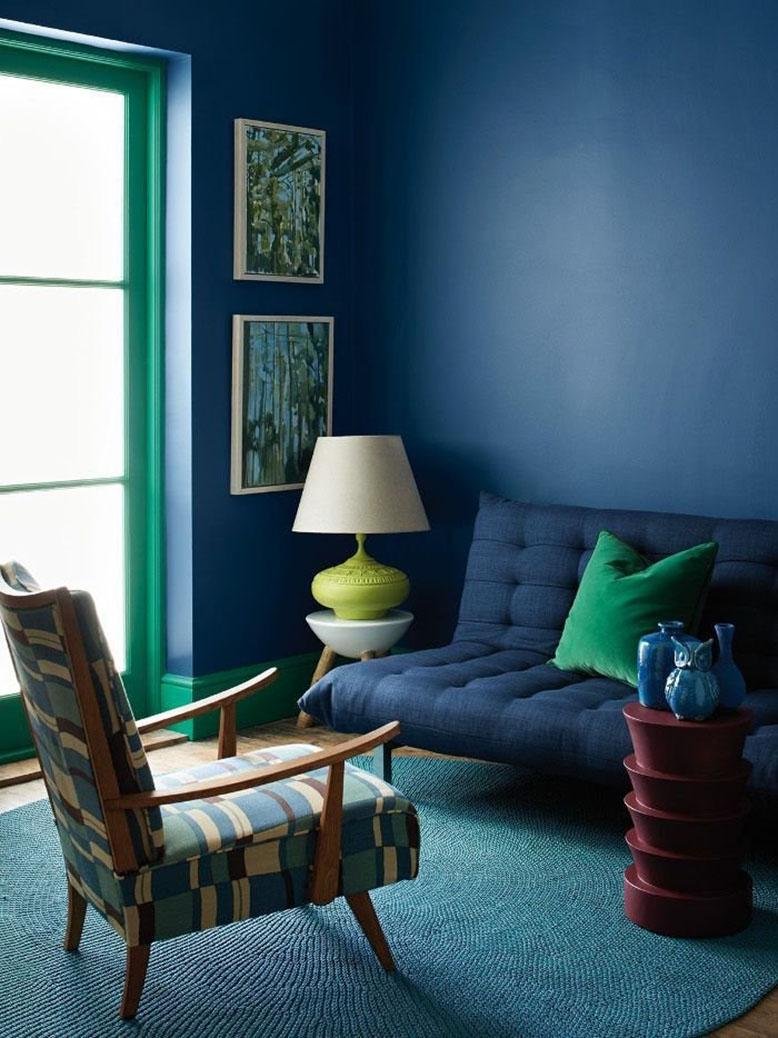 Image link
Shades of blue and green, blue and green being next to each other on the color wheel means that they blend naturally well together.
TRIADIC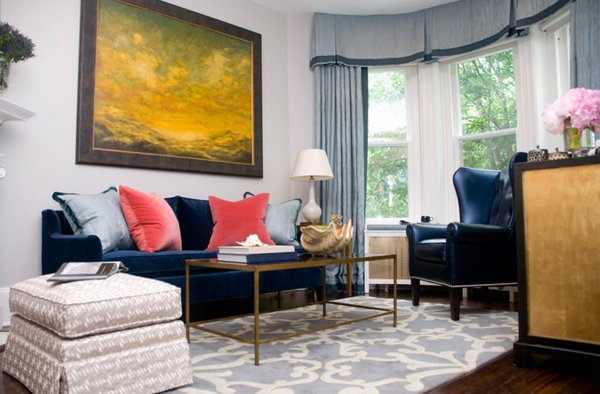 Image link
Blue sofa, yellow chair, and red carpet! Note the unsaturated tints of the furniture, they are all quite muted, which is more masculine than brighter colors, especially important for warmer colors like yellow, which can be too bright.

Image link
Another, yellow red blue, yellow couch with blue curtains and a red lamp. You can see how even a small object, like the lamp, can be used to accent the room.

Here's an excellent example of a blue, red and yellow/gold color scheme which looks awesome, very mid-century modern.
SPLIT COMPLEMENTARY
   Image link
Yellow-green, blue-green and red split complementary colored carpet. This color scheme isn't the easiest to pull off, judging bu the very few masculine interior designs using the scheme.
RECTANGULAR TETRADIC AND SQUARE…
Now these color variations aren't typically used all that often in interior design, particularly in more masculine living spaces, however now that you know the principles, you will be able to mix and match and experiment with the above color variations to add some character to your apartment or house.
By James