When you look for masculine living space inspiration for your new apartment, man cave or whatever it may be, you may notice that there are some universal theme ideas and combos which remain consistent among a large proportion of the design ideas. In this article we'll explore some of the best combo's and design tropes which characterize the masculine living space, think of it as a male living space starter pack article…
#COMBO 1. Lounge Chair with Ottoman And Cowhide
There you have it, this combination would also go nicely with some large potted plants (need some hard to kill plant ideas found at most garden stores?), or like the above, next to a book case as a reading corner. Disclosure: The links present in this article direct you to amazon.com. As an Amazon Associate I earn from qualifying purchases.
Eames Style Recliner Chair With Ottoman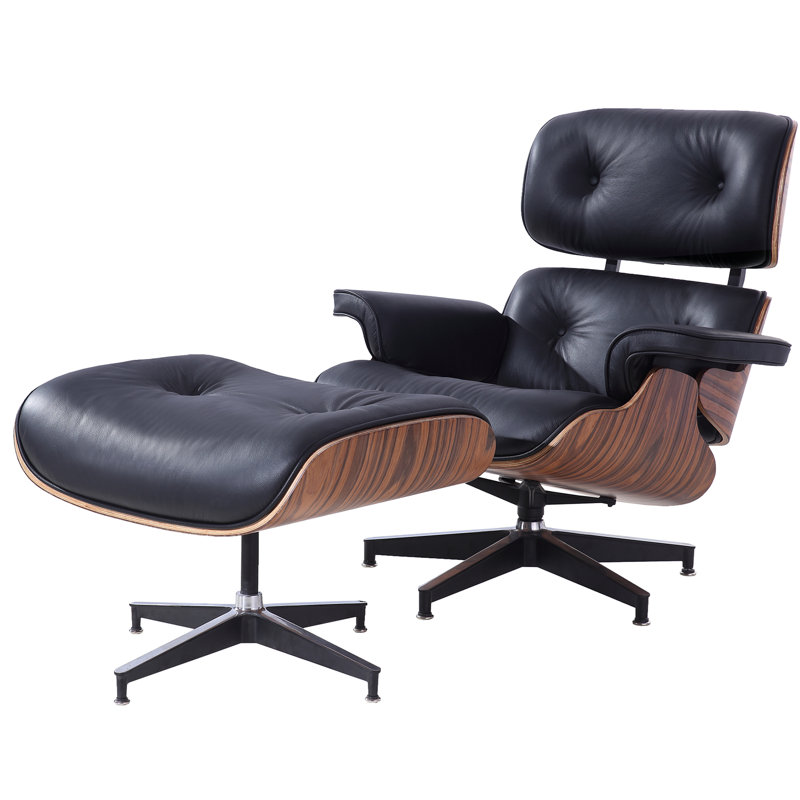 The classic walnut recliner with ottoman, the chair even has a cow hide rug in the promotion photo! They know….What more evidence do you need that this is the perfect combo? Apparently it's designed based on 'human engineering' what ever that means…. Either way the chair looks super comfortable and 'mid-century modern' perfect for a masculine reading corner or to watch TV… Or to fall asleep in after work, yay adulthood.
Western Decor Faux Cow Hide


An apparently eco-friendly faux cowhide rug. You can grab a real cowhide too which of course have a more detailed look, all though they tend to be more expensive. This faux rug is designed from polyester fabrics, natural latex non-slip bottom.
Real Tricolor Cowhide Rug Small Approx
The above rug is a real cowhide rug, which are apparently recycled from the food industry, so you can use that as an argument for any eco-warriors with a bone to pick (to eco-warriors pick bones?). The rug you will buy would obviously be slightly different in pattern but will be similar overall. Size approximately: 5ft x 6-6.5ft 150cm x 200cm.
#COMBO 2. Arc Lamp and Couch
We'll leave the couch buying to you, consider a mid-century modern couch. Check out the below arc lamps if you need some inspiration…
Brightech Hudson 2
Made from oil-rubbed bronze, this sturdy lamp is adjustable in height and length, allowing the adjustable arm can extend 2-3 feet out over a couch. There are all kinds of styles of this kind of floor lamp by Brightech on the link below.
Versanora Modern Arc Floor Lamp
This minimalist cool, retro looking lamp would look great with an accompanying retro looking sofa. The heavy marble base makes it wobble-free as it hangs over your couch of chair.
Arc Floor Lamp by Archiology
Black and gold arc floor lamp by 'Archiology', we're not sure if that is a pun brand name or not but this lamp is probably best as more of an accent piece rather than a practical lighting for your masculine living space.
Admiral Modern Pharmacy Floor Lamp
Wow, that's not a very attractive name for a light…Pharmacy? Really? Non the less, it looks cool. Made of Saturn nickel, and with an adjustable boom arm step so you can adjust how far the arm reaches over your couch of chair.
Henn & Hart Pulley Lamp

Okay, I had to fit this one in too, this one is a really cool, bold look. This one would require a really really masculine couch or chair, or reading corner to pull off. Oh and the pulleys can actually be used to alter the height of the lamp.
#COMBO 3. The Double Lamp and Bed
A highly popular design among masculine bedroom designs, the double lamp combination either side of the head board, either placed on a side table on appended onto the wall.
Alexandria Tripod Table Lamp, Black

This minimalist black tripod lamp would suit most bedrooms or wherever else you may want to place them. By the way if you want some larger tripod lamps, check out our most popular article on tripod lamps!
Dimensions:
Overall Height: 19.5 inches

Base Width: 5 inches

Lamp Shade Height: 7 inches
DEEPLITE USB Table Lamp Bedside Nightstand
These sophisticated looking side lamps, emit a soft light with its white line fabric shade. Why not get the recommended complimentary side tables?
Black Dual USB Table Lamp
Similar to the above lamps, these come with two USB ports per lamp, and also come with a recommended complementary side tables.
#COMBO 4. The World Map and Desk Trope
This is a pretty specific trope you will see in male living space furnishings, the world map and desk/table trope. Simple place a cool looking world map above your work station of a cabinet and voila! I guess staring at a map of the world whilst you work is one hell of a motivator. Again, we'll leave the cabinet and desk buying to you, here are some cool map ideas…
Cork Board World Travel Map
The ideal gift for the sophisticated, globe trotting man to hang up above his work station, corking all the places you have been and will go.
Berit World Map
This one is on the vintage end of the spectrum, click through to see it in all it's glory as the product photo here doesn't do it justice at all. It is on the more pricey side however. Hey, they even have a promo photo of one above a work desk….they know!
Old World Map
Old World Map Blue Pictures Modern Giclee Canvas Again,
the photo above doesn't really do this three piece canvas justice, so click through to check the detailing and the size specifications.
Vintage World Map Canvas
Ready to hang vintage canvas, with the Amazon's choice sticker. Check out their brand, they have some other really cool similar designs, especially if you like ships. Thanks for reading! Check out some more of our articles below.
By James