Welcome to the third Buy The Look volume! In this volume we'll be having a look for the products in the the above – cool mid-century modern reading nook – design image, namely the carpet, recliner chair and the bookcase. We'll leave it to you to finish off the look with the peripheral items, should you choose to use the styling, with the peripheral items, like those in the bookcase. Note that the surrounding decor is pretty light and neutral with the white walls and light wooden flooring. This classic male living space combination is even featured in our furniture combos article. It's quite a minimal look, you could maximise it by adding a nice large floor plant, check out our article on hard to kill plant species for your apartment or house.
Disclosure: The links present in this article direct you to amazon.com or other sites. As an Amazon Associate I earn from qualifying purchases. For more information see our About section.
Lets begin!
Mophorn Lounge Chair with Ottoman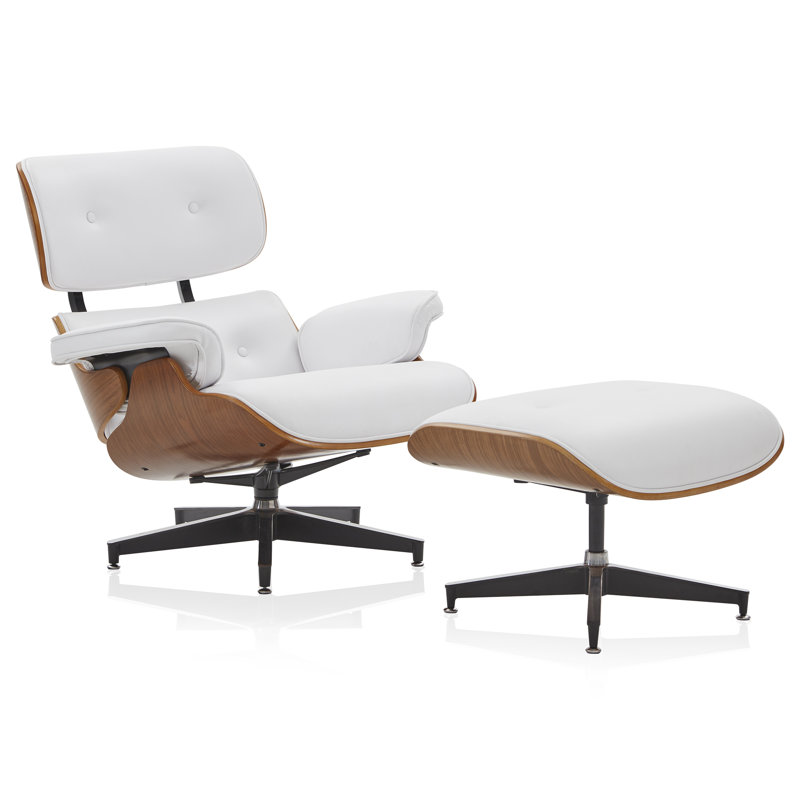 Hit! The chair is the same as the one you see in our Buy The Look header (despite the color). There are probably numerous locations which you can buy this chair, and there appears to be several listed on Amazon, so if you're lazy like me you can get it delivered to your door, or shop around and find the best deal, or even better go in store and sit on one, you may not be able to get up however, as these chairs are super comfortable.
Cowhide Rug
HIT! Butter cream real leather cowhide Rug. What could be manlier than the hide of an inferior species (Animal activists don't @ me). The seller claims that these cowhides are recycled from the meat industry, which makes sense, the seller has more information on their site. The natural hides may contain natural flaws so the image you see may be different to what you get, so if a local store stocks them it may be worth having a look, or you could get a faux rug, which tend to be quite a bit cheaper, see below. Perfect if you're moo-ving home. Ha ha. ha.
nuLOOM

Faux Cowhide Rug
There are numerous faux rugs on Amazon, the above, from nuLOOM, would work well with our Buy The Look scheme. However it doesn't quite have the same effect as the real cow hide, I'm sure you could shop around for a while and find some suitable ones online if you wanted.
Ikea KALLAX Shelf, White
HIT! This minimalist 'mid century modern' 16-cube bookcase/shelf unit from Ikea is the kind of minimalist and modern thing which Ikea are famous for. There's plenty of space for books, ornaments and plants. Check out our book article for great ideas on books for men. This Ikea bookshelf is one you will see in many cool male living spaces and modern housing design ideas.
Well we'll leave what you put in the bookshelf down to you, but if you want some suggestions, check out our awesome books for men blog, and out statues of the gods and heroes from Greek Mythology blog. You could also place some small plants in some of the squares for a really cool look, which will un-clutter the bookcase. Oh and what luck we have a blog on hard to kill plants too! And, if you haven't already, check out out Buy The Look Volumes 1 & 2.
Thanks for reading! Check out some of our other articles on awesome design ideas and gifts for you male living space!
By James