So maybe you have a small apartment or living space, or just love plants, I've compiled a list of 30 awesome mini indoor 'garden' ideas (mindoor gardens?) for you to peruse, to give you some cool bohemian living room ideas for 2019. These range from the doable, the buyable to the slightly less buyable but still cool. And hey, what amazing luck! I have already compiled a list of hard to kill plants for you to keep in mind when buying plants. There is always room in your living space for plants, and if you're sitting around wondering what is missing in your living space, the diverse structures of plants and the emotional evocation they inspire within the human mind is an easy win for your living space.
#1 Mini Garden Reading Corner
Image Link
Why not greenify your reading corner with some large potted plants surrounding it, as above. This will make your living space seem deeper and doubles as an awesome reading space to lose yourself in. Make sure to place it buy a window as shown.
#2 Mini Corner Garden
Image Link
This would work well in a bathroom, or for that boring and awkward corner of your house. Check our color scheme article for colors which match green, obviously neutral colors like above go well but sometimes you want to mix it up a bit and add some colors.
#3 
AeroGarden Classic 9 Garden, Black
There's a few similar mini gardens like the above around, so shop around and try to find one you like if you're interested. You can grow things like herbs, lettuce, vegetables and more. The one above comes with the prestigious Amazon's choice sticker. There's a few videos of the AeroGarden in action through the link so check it out if you're interested.
#4 Balcony Garden
Isn't it annoying how quickly salad goes off when you buy it in the bag?? This little balcony garden has lettuce and other edible plants by the looks of it. I'd probably want enough space for a chair or something but its a cool idea if you have a balcony.
#5 Living Wall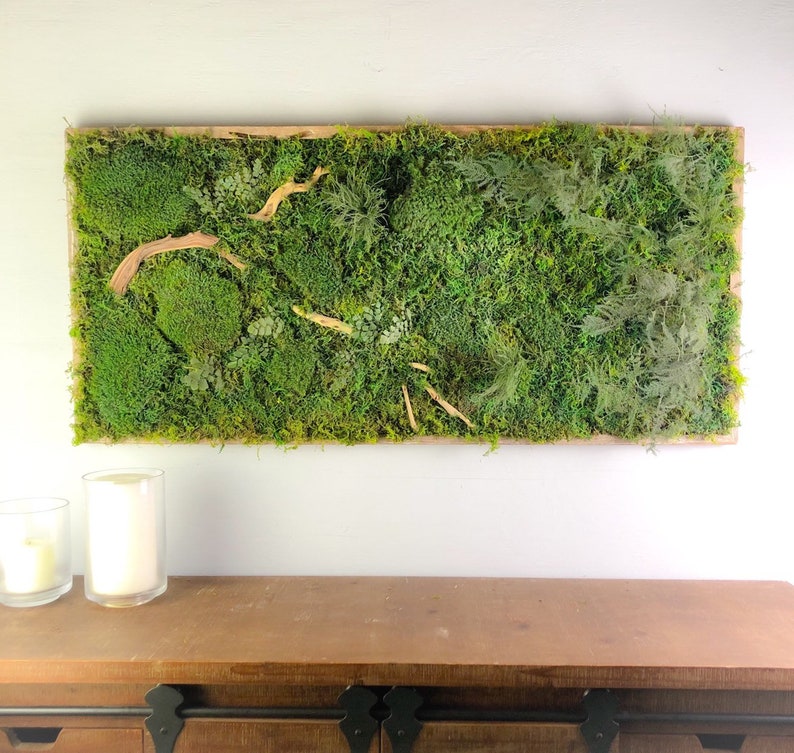 Image Link
These living walls (sometimes called 'moss wall art') are really awesome, and a little bit expensive. Looks like you can buy some from Etsy, and I'm sure other places on the web. They are made of real live plants and mosses, and can be anywhere from the above size, to a whole wall! Below is an extreme example of a whole wall being dedicated to a living moss/plant wall.

Image Link
#6 
Pocket Indoor Waterproof Vertical Living Wall Planter
These hanging wall planters can be double or even trebled up so you can make your own, cheaper version of the living wall theme. Perfect for your masculine living space to give it some color and life. This one can be purchased on Amazon and is made from Eco-friendly material (100% recycled plastic) not that you will see the material as it should be hidden behind some awesome plants. The material is also waterproof, so you won't get any wet walls when you water your plants.
#7 Mini Moss Garden
These mini moss gardens would make an awesome centre piece or feature on a shelf or credenza for your living space. It looks like these require some DIY to make, here's a cool tutorial on how to create your own one. It would be a nice conversation starter if you made your own one.
#8 
Retro Creative Wooden Plant Terrarium
The cool hydroponics vintage glass bulb and natural wood plant holder has a cool rustic and modern look. The glass beakers are easy to clean. Plants don't come with the above piece which is from Amazon. Size: width (11 inches) Height (5.43 inch). This would suit a mid-century modern living space.
#9 Closed Terrarium
A terrarium is usually a sealable glass jar or container with soil and plants, which can be opened for maintenance, and sometimes can be temperature controlled, however the above is just a DIY terrarium by the looks of it, which can be easily made, I would suggest something like cacti, which are pretty hard to kill. The little lights in the above plant is pretty neat too.
#10 Dead Wood Forest
Image Link
You don't have to have live plants for an indoor garden, right? RIGHT? This above DIY feature looks awesome and very Autumnal, I think those are silver birch branches. It's a nice touch to a living space, especially a masculine living space, wood is pretty manly after all.
#11 Bonsai Feature
Image Link
This mid-century modern kind of design for bonsai trees would make a dramatic accent feature, I'm sure you could get smaller, or larger ones. Try not to kill the bonsai trees…Like I usually do…
#12 Mini Planter
This little two-shelf piece from Amazon is easy to assemble and made of powder coated tubular steel. That sounds cool. Load it up with some little succulents and cacti for a cool miniature garden in your apartment if your short of space.
#13 Overgrown Grown Spider Plant
If you let a spider plant grow 'spiderettes', long greeny-white projects which emanate from the plant and produce flowers, eventually you will get another little spider plant growing from the spiderette, which will give the above effect of cascading spider plants, which look awesome. You can also propagate more spider plants from the mini spiderette.
#14 Aloe Vera Garden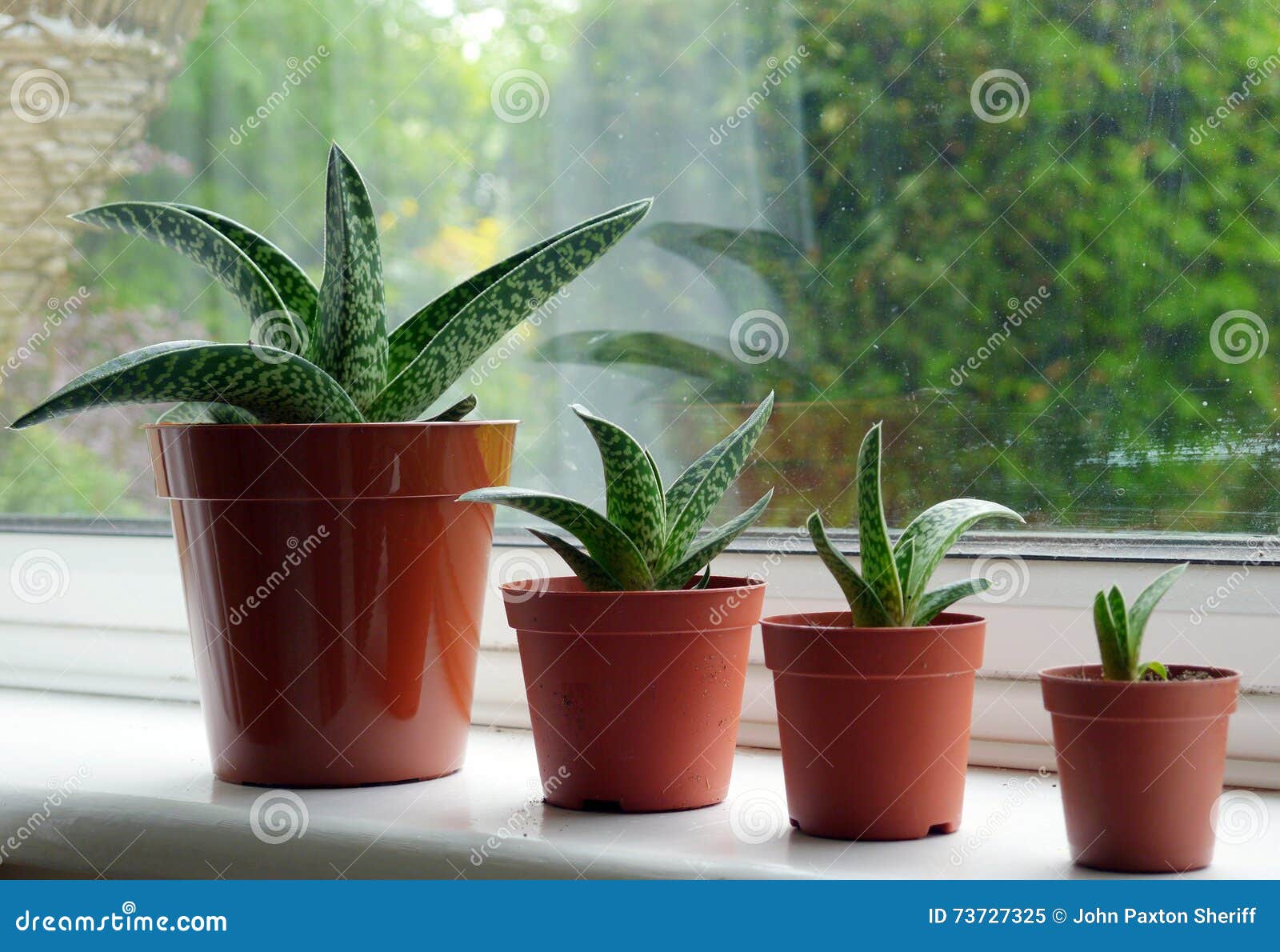 Image Link
Not only does aloe vera have several healing properties, it's also easy to look after and really easy to propagate. To propagate, just slice of one of the tentacles, dip it into rooting hormone and place in a pot of soil. You could easily keep doing this until you have a nice little aloe vera garden like above.
#15 Hanging Ivy Feature
Consider a dramatic hanging ivy feature, the above is not quite a 'mini indoor garden', but if you added two or three to a shelf then you could consider it one. English above (above – although the above is artificial) is an invasive species in some parts of the world (like the USA) so make sure to find out, and don't let it escape into the wild!
#16 Door Frame Plant
Image Link
This climbing vine-like plant being draped over the door is an awesome idea. We're not sure exactly what kind of plant this is, however, you will be able to find a similar one at your local store fairly easily. Something like English ivy would work quite well.
#17 Snake Plant & Wind Palm
Image Link 
This snake plant and wind palm combination works really well as a kind of mini jungle, these plants are also super easy to care for, it gives the illusion of depth too, as you can't see the wall in places.
#18 DIY Mug and Pots Plants
Image Link
A cool DIY idea, planting herbs in big mugs and old coffee containers etc. has a cool DIY grungy appeal. This would be a cool touch for a kitchen windowsill, so you can grab some herbs whilst making your pasta. This kind of mini garden work best near the window being watered often.
#19 EcoSphere
view on Amazon
This counts as a garden right? These ecospheres are awesome, this is a closed aquatic system which require no maintenance. This one shows fish inside it…I've never seen one with fish inside it so I'm called BS on that, what would they eat?? You should be able to a proper one pretty easily in your local city or maybe only.
#20 Coffe Table Accent Piece
Buy on Amazon
This is an unusual idea, but a decent one if you happen to have lots of floor space to use up. This one required some DIY, perfect if your bored of a weekend. Make sure you use some hardy type plants or mosses which don't require lots of light, as this isn't really the kind of thing you could place near a window.
#21 Mini Ladder
Buy on Amazon
This is a pretty cute mini ladder. Hey, why not place this mini ladder on the larger ladder shelf below… There's an out of date Xzibit Yo Dawg meme reference here … but that might be fun. Place some little cacti or succulents on the shelf for a similar effect to the above.
#22 Flower Rack
Buy on Amazon
Funky flower rack. This is a really cool accent piece, perfect for if you have a bare space next to the wall and aren't sure what to do with it. This can also be used for outdoors if you have a garden or maybe even a balcony.
#23 Hipter Hanging Plants
Image Link
This is pretty standard Pinterest hipster type stuff, but you have to admit it's pretty cool, you could DIY something similar for that bare space on your wall in your hallway, or wherever. It might be something fun to do when you're at a loss, it certainly would be a conversation starter when giving someone a tour of your apartment or house.
#24 Mini Geometric Planters
Buy on Amazon
These mini geometric planters would suit any modern living space, grab several and load them up with succulents or cacti. A nice touch to that gap in your bookcase or windowsill. Actually, if there is a gap in your bookcase, then fill it with these manly books!
#25 Budget DIY Cacti
Okay, not quite as fancy as the above but, this was a little mini cactus garden I made for my windowsill at university. Super simple, a little tray, some pebbles (these were from a garden pebble bag, the kind that are used for lining patios etc.) and some cheap and cheerful cacti in little pots. They barely need watering at all, I'm pretty sure half of these were dead by the time I took this photo…
#26 Mini Herb Planter
A mini chive garden is an awesome addition to your kitchen, there's nothing like ripping off some basil and chucking it on some freshly made pizza, for example. Try and get one with chives, they grow fast and are easy to propagate.
#27 Succulent Shelf Planter
Image Link
A succulent/cacti shelf planter with stones. Pretty impressive that the above photo has the full shelf fitted with the planter! You could easily buy some rustic wooden planters and load it up with soil and succulents, with a stony top layer.
#28 Ladder Planter
Image Link
This ladder-shelf phenomenon is a new trend, I suspect its based around the mid-century modern craze in decor. Grab a ladder shelf (check out our ladder shelf article) and load it up with plants, like the one above, for an awesome accent piece in your male living space.
#29 Hanging Wood Planter
Image Link
This is a pretty cool idea, you could easily DIY this, or find something similar on the web or in the garden centre. This one has herbs leaning off the wood, but you could add whatever plants you like, some hanging ivy of vine-type plant would look pretty cool.
#30 Hanging Indoor Planter
Cleverly designed, this anti-drip (whatever that means) planter holds six plants, look another spider plant! It is on the expensive side however! You could probably get a cheaper one by making your own or searching for similar products if you like it.
#31 Artificial Hanging Ivy
Image Link 
We hope this isn't sacrilege, but sometimes having fake plants is easy for some, and still has the desired effect, like these hanging fake ivy vines, here is a similar best seller you can buy on Amazon. Check our some of the customer photos through the Amazon link for some extra inspiration.
#32 Awesome Balcony Garden
Image Link
Okay for our last one we've gone into the 'slightly less buyable' category, but if after viewing all these mini garden designs you've caught the mini garden design big then here is some inspiration. It almost looks like a zen garden, complete with mini waterfall feature, nice. This one looks like it would require some carpentry skills, nothing you can't learn from YouTube I'm sure.
Thanks for reading, why not check out our related articles on Hard to Kill Plants, Mid-Century Modern Decor for Menand Leaning Ladder Shelves for Male living Spaces.
Disclosure: The links present in this article direct you to amazon.com or other sites. As an Amazon Associate I earn from qualifying purchases. For more information see our About section.