A reading corner or reading nook can be a great way to flesh our your bachelor pad. It gives an air of sophistication and class, as well as having a space to chill out in. Sometimes it's nice to turn off, log out and shut down, and dive into a book, especially in a time where most people just read headlines, tweets and emails.
If you want the perfect reading corner for your man cave or bachelor pad then you may want ot give our awesome book review article and our article on cool bookcases, for some awesome reading corner ideas for the male living space.
Here we list 21 awesome reading nook/reading corner inspiration ideas for your perusal…
Disclosure: The links present in this article direct you to amazon.com. As an Amazon Associate I earn from qualifying purchases. For more information see our About section.
#1 Fresh mid-century Modern
Image Link
Mid century modern blue chair with yellow/tan faux cow hide rug. Blue and yellow work really well on the color wheel (hey, check out our awesome color wheel article which will explain why blue and yellow/gold go well together.
#2 Black Accent Wall Reading Corner
Image Link
This is a cool little reading corner, with a mini book shelf down in the bottom right, and a cool antique-looking accent chair. Check out our article on moody black accent walls for some similar looking ideas.
#3 Mid-century Modern Industrial
Image Link
Cool mid-century modern chair and side table with industrial floor lamp. This has the appearance of a 'promotional' looking living space, but it's a nice idea with the minimalist floor lamp.
#4 Jungle Reading Corner
Image Link
This is a cool little jungle themed reading corner, if you need tips on how to turn your living space into a jungle, then check out our article here.
#5 Brick-White and Black Leather
Image Link
A minimalist and classy looking reading corner, with a black/brown and white color scheme.
#6 Read and Recline
Image Link
A cosy and classy reading corner with supper comfy looking accent chair. The bookcase here is built into the wall, which is a cool feature.
#7 Futuristic Reading Nook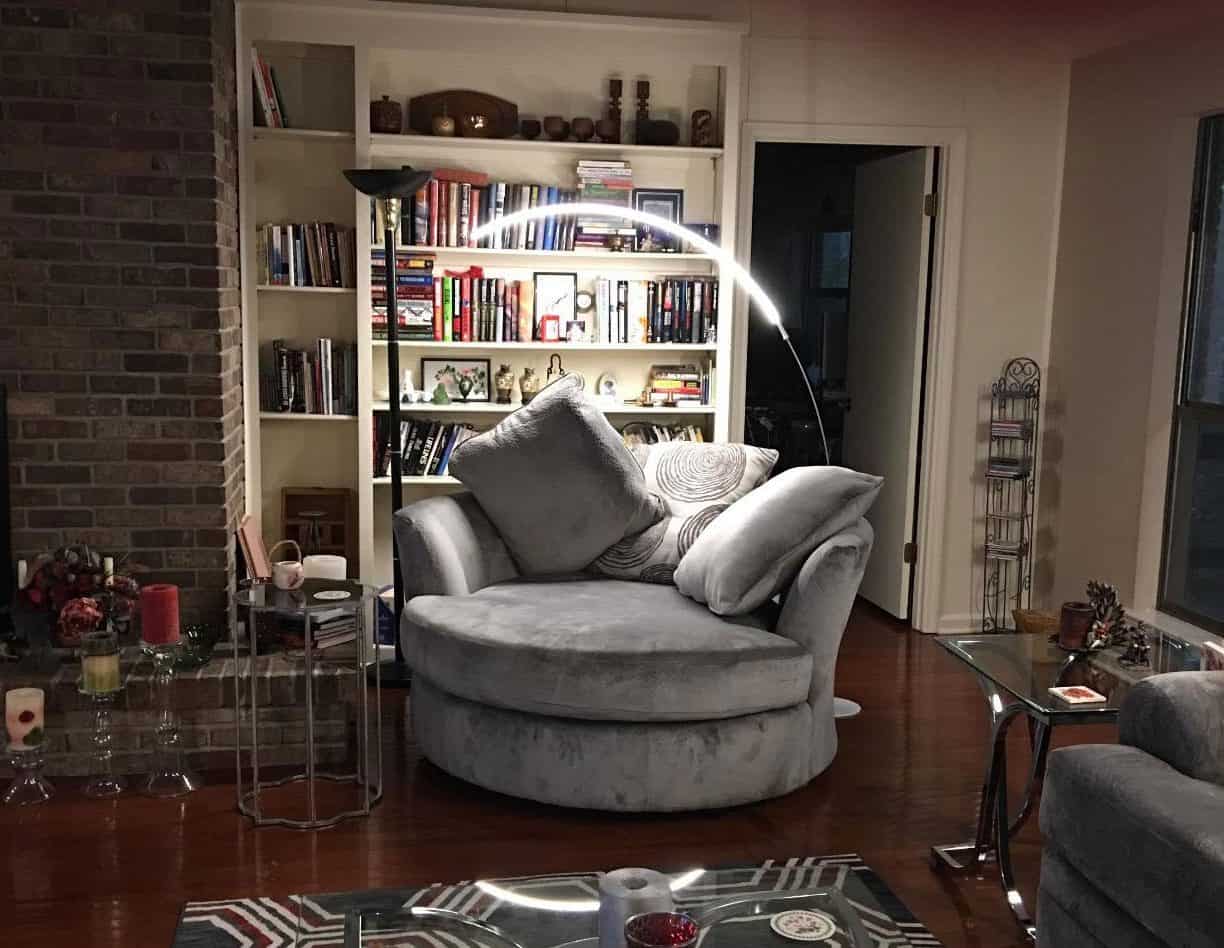 Image Link
Futuristic reading nook with funky bendy light. This corner wouldn't look out of place in one of the rooms of the Millennium Falcon. The light is a Brightech Sparq which you can purchase on Amazon through the link, or presumable from other stores.
#8 Moody Black
Image Link
Mid-century modern reading corner with bookcase. This is probably a black accent wall, surrounding a possibly lighter colors wall scheme. Check out our article on awesome black accent walls for the male living space for some more inspiration.
#9 Manly Reading Corner
Image Link
This cooler than cool mascuine reading space looks awesome. The theme is definitely rustic and manly, with elemental decor pieces like wood and bricks.
#10 Classic Male Living Space
Image Link
If you ever frequent r/malelivingspace you will be well acquainted with the above recliner and ottoman combination, we even wrote about it in our awesome furniture combination article.
#11 Fresh and Unique Reading Corner
Image Link
The whole wall of storage is a cool idea, plenty of space for books and storage. This is a pretty cool looking chaise lounge, which doesn't look too regal, it comes across as quite modern and understated, which looks super cool.
#12 Modern Chaise Lounge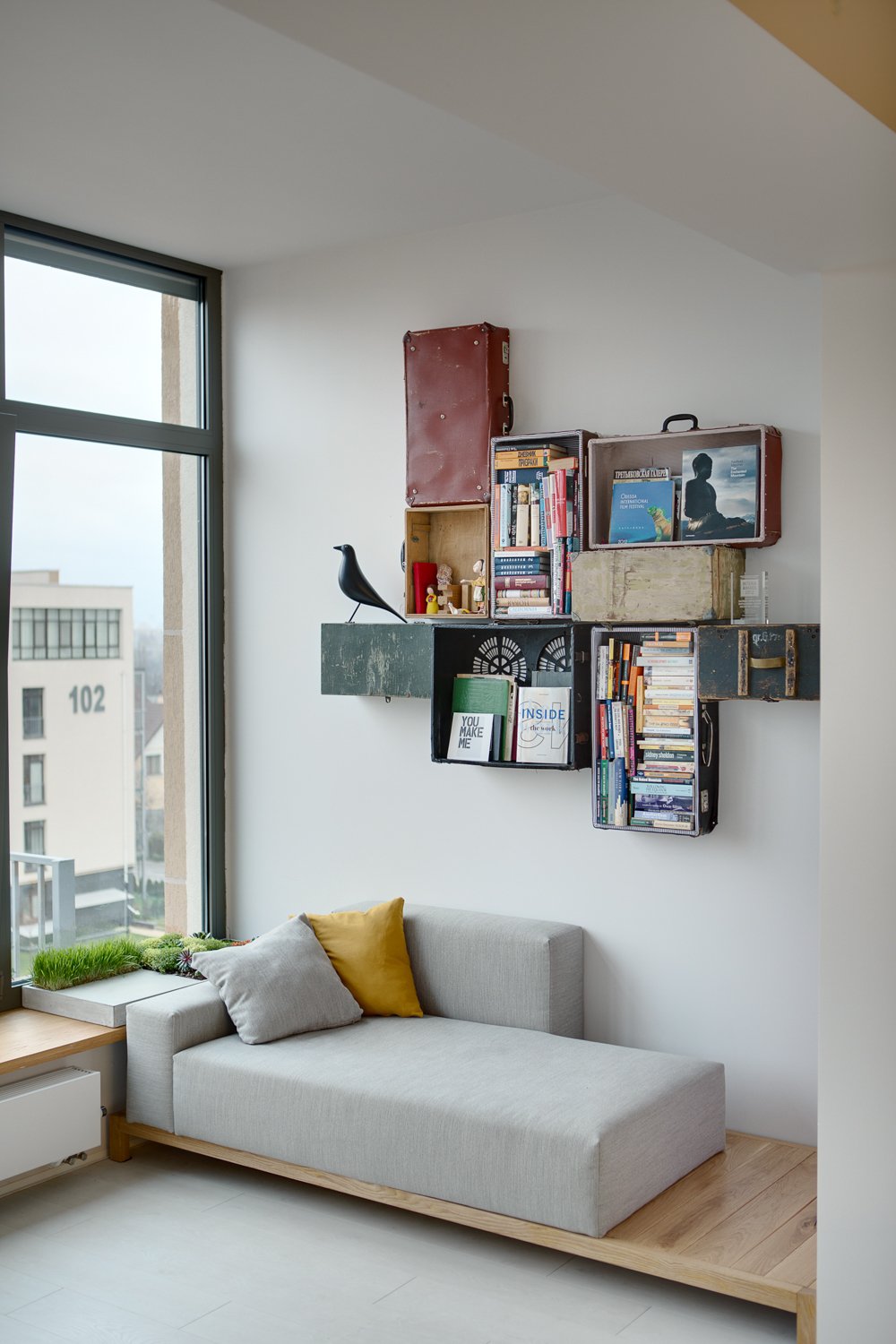 Image Link
Another cool modern-looking chaise lounge reading corner with trendy looking wall units. This one is like the tetris of chaise lounges, very blocky and modern; ideal for a mid-century modern styled living space. This would suit a modern male living space.
#13 Reading Wall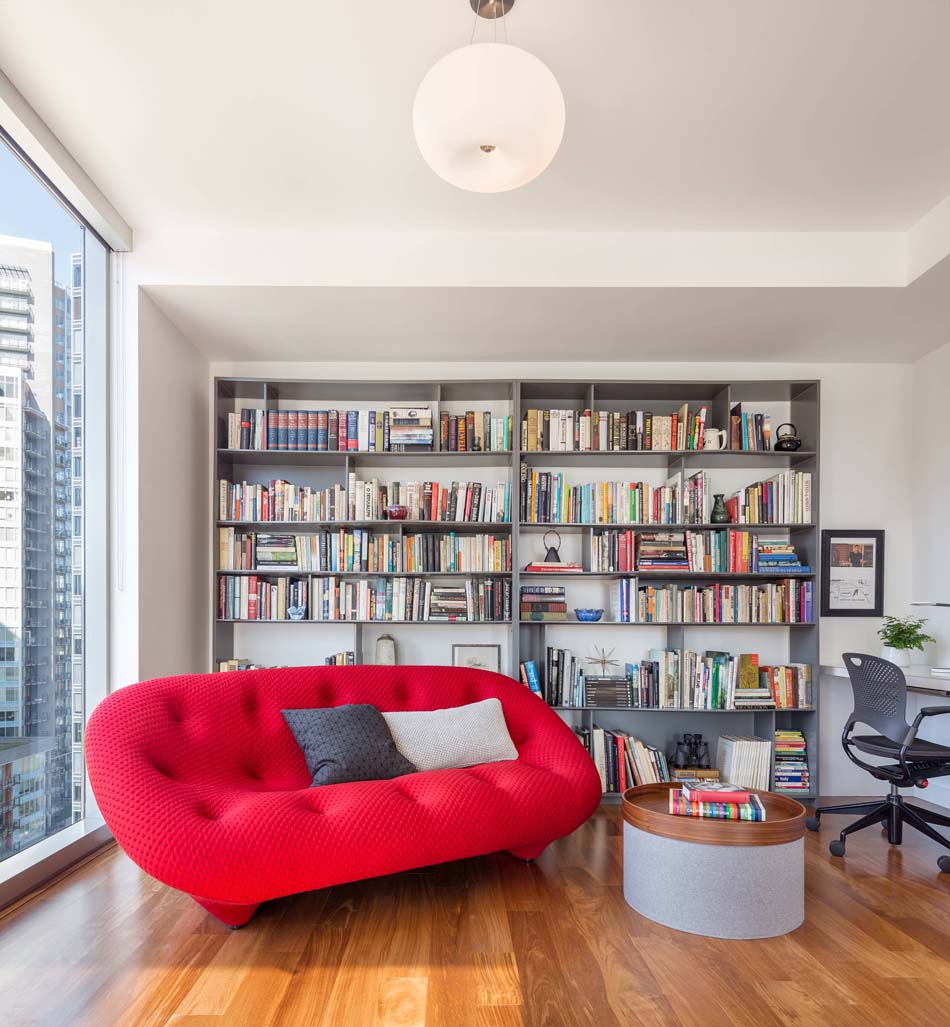 Image Link
This is less like a reading corner and more like a reading room! We like the look of that sofa, pretty cool, kind of looks like you may slide off it judging by the shape of it but, it's a pretty nice idea to just have a giant bookcase in your living space. It's always an aesthetic looking decor piece for a living space.
#14 Leather
Image Link
Cool leather butterfly chair with with poof. There's a sort of wild west theme going on here with the leather and native American wall art. Giving your reading space a theme is a nice idea! Definitely consider creating a theme for your male living space reading corner.
#15 Blue and Brown
Image Link
Blue and brown, we like the look of that accent chair too, nice idea, if anyone knows what make of chair that is drop it in the comments!
#16 Blue and Chilled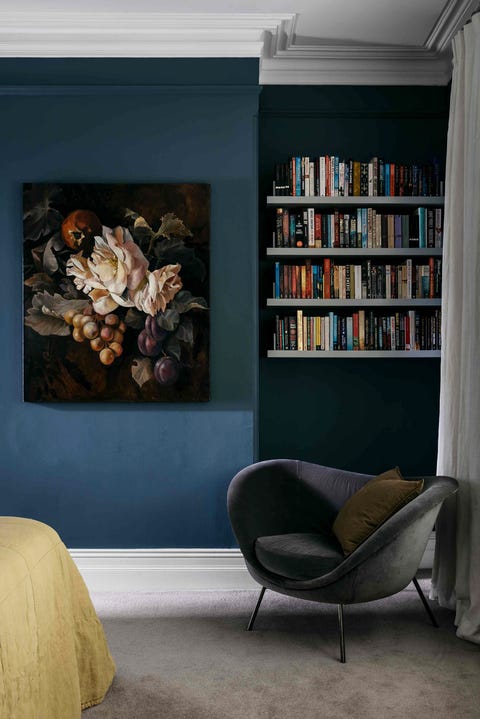 Image Link
A marine blue accent wall and accent chair, with library shelf. The blue and yellow work well together, for reasons we talked about in our color cheme article.
#17 Brown and Classy
This is a nice classy looking reading corner. Those chairs and that bookshelf are very much in the mid-century modern styling, as is the carpet. Interesting wall color there, we're not totaly convinced about it though!
#18 Lounge Chair with Ottoman
Image Link
Ah, there it is again, the classic masculine living room combo, ottoman and recliner. This is a super slick mid century modern reading nook, perfect for a modern male living space or bachelor pad.
#19 Basic Giant Lamp & Accent Chair
Image Link
Yellow mid-century modern-esque accent chair with giant floor lamp. That floor lamp is almost comically large, but the simple corner chair and lamp combo is a nice and easy way to set up a reading corner on a budget.
#20 Mobile Reading Corner
Image Link
Cool yellow accent chair with floor lamp with an awesome stand alone single tower book shelf. You can grab the spine <a style="color:#3366ff;" href="http://
">tower book shelf from Amazon and other sites. This is a really nice idea, which can obviously be moved around easily with the mobile book shelf tower.
With those inspirational reading corners in mind, lets have a go at recreating our own one, below we've scoured Amazon for some affordable items with which to furnish your reading corner with.
Thanks for reading! Check out some of our other articles for some awesome inspiration for your bachelor pad or man cave.
– James