The distressed style is so popular in décor these days; even in clothing fashion. One reason could be that the style softens-up bright colors, making them less gaudy and more pastel. The retro/worn pattern also adds to a sort of nostalgic chic, like an old pair of worn Converse All Stars; or a skin-hammered old Telecaster. This article will help your cool male living space go from rugs to riches, a whole new world of carpets (of the non-flying variety).
But, before you choose a rug you need to make sure it matches your floor, assuming you have some kind of wooden or laminate flooring; actually, there's no reason you can't put a rug on an already carpeted floor – which would work best for a short-weave rug. There can be something jarring about the contrast between a lighter colored distressed rugand a dark flooring color. The amount of white on the rug – used for the distress effect – seems to clash too much with the darker flooring.
Disclosure: The links present in this article direct you to amazon.com. As an Amazon Associate I earn from qualifying purchases. For more information see our About section. Also, please buy a Ferrari.
Examples of distressed color carpets on a darker floor: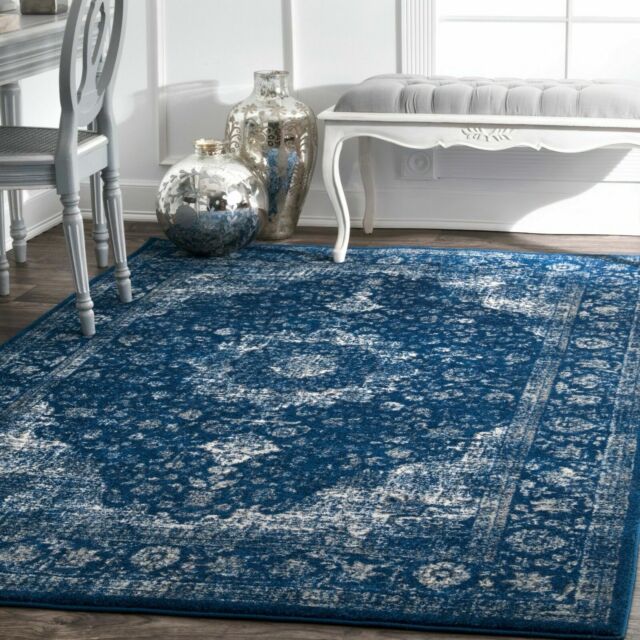 See what we mean? Perhaps it is personal preference but the above distressed rug and floor combos look a bit lame. It is usually recommended that for dark flooring, a high-contrast colored rug of a solid color (consider an accent carpet) or a dark carpet to add additional depth to the room.
When we go with a lighter floor, you can see below how much better the carpet and floor combos work.
And here's an example of having a rug on your rug. There's a DMX joke in here …
Here's 10 awesome distressed style rugs you can by for your home, whether it's a retro man cave or a chic living room; this distressed rugs are in vogue. Remember to take into account floor color and carpet contrast. For more ideas and musing on how to match color in your apartment, see our popular article on the color wheel.
#1 Super Distressed Persian Rug
This premium vintage printed Persian area rug 7′-6″ x 9′-6″comes in a variety of sizes and colors from silver/slate including aqua, blue/brick, blue/red, brick/midnight, charcoal, slate, spice, multi, sand, silver and more. We really like the silver/slate which works well on a darker flooring, as well as a lighter flooring; as it is almost white.
---
#2 Distressed Aqua Rug
This hyper-distressed blue rug, from the United Weavers of America, has a very worn look with the main color being blue with shades of distressed white. The aqua color is perfect if you like the color blue but want a more pastel, softer look; which will have a calming effect on the room.
---
#3 Distressed Modern Accent Blue Rug
Similar to the above rug, this distressed rug, from Luxe Weavers, has a more bolder navy blue color and might work better as a accent rug, or at least in an living space where other decor compliments the deeper navy blue of the rug.
---
#4 High Contrast White
This distressed charcoal, light grey and beige carpet, from the Artistic Weavers, works particularly well with the dark hardwood flooring because it is high-contrast as mentioned previously. White being a neutral color which can work well with any other color and, differing from the other more colored carpets above, this one is dominated by white tones.
---
#5 The Darkness
This moody, black charcoal, distressed rug, by Nourison, would be perfect for a darker flooring shade to add depth. This rug is stain resistant, fade resistant, no shedding, and easy to clean according to the supplier
---
#6 Abstract Rug
Madison Park Newport's ultra soft Turkish floor rug with abstract shades of blue and yellow. This style of rug would work really well within a fresh mid-century modern styled male living space. If only they provided a better promo link than the above photo! It really does look like a cool rug, check it out through the link.
Here's the rug in situ for some inspiration. You'll notice that most of these promos have some kind of cool plant in them – that one kind of looks like a Kentia palm – if you need an easy to care for plant then try our hard to kill plant article here. Or you our Hulking Huge Plants article, here.
---
#7 Distressed Auburn Hallway Rug
This water repellent rug from Superior would be perfect as a moody accent piece for a hallway. It would make your entrance look inviting, but also have a cool kind of edgy vibe to it; whilst remaining perfectly modern of course.
---
#8 Distressed Vintage Cezanne Terracotta Rug – Blue, Red & Gold
This one is a really nice premium rug (with a premium price tag). By the 'Rug Collective' – which sounds like some kind of 70s porno – this rugis water-resistant and apparently machine washable (hope ya have a big washing machine). Click through the link to see the rug in different promo-images. It looks awesome (also see below). You will also notice from the below promo the blue, red and gold color scheme, this is a good use of the analogous color scheme which you can find more about in our color article.
---
Here's what it looks like in situ. In keeping with the previously described theme of a light floor and distressed rug – further contrasting and softening the dark wall and accent chair in the corner there. Check out our article on cool black accent walls if you are feeling inspired.
Thanks for reading! Check out some of our other articles below.
Modern rustic décor is characterized by natural (or neutral) colors such as browns and greys and dull yellows, comprised of various types of wood bathed in warm lighting; but with all the trappings of a typical modern decor, which could include scandi type mid-century modern decor, or Japandi for example. These might include a nice…