Modern industrial decor includes a range of stylistic themes inspired predominantly by 20th and 19th industrial equipment. The industrial elements, of modern industrial decor, riff on the themes of black metal, wrought iron, complicated wheel structures, pullies, chains, pipes, valves and all of the steam operated organs of past industries. Less Swedish furniture and more Birmingham; think Peaky Blinders without the soot.
In this article we welcome the steam-birthed industrial revolution into our apartments and houses. This new design trope is a popular one in cool male living spaces – it is an inherently manly design trick to use, after all it is predominantly black metal. Lets have a quick look at the below mood boards to get us in the right ballpark – then we'll have a look at some awesome modern industrial living space ideas.
Some links will take you to Amazon or Ebay, in case you wanted to check out some of the design features we mention. see our About section for more info.
Industrial
Modern Industrial
A far cry from the sci-fi chic of the 60s and 70s, industrial modern decor goes back to the roots of classy and complex looking mass machines; from a by gone era where even rioters wore suits. With the above mood boards in mind, lets dive into some modern industrial design ideas for your home or apartment.
Nice One, Einstein
Hanging Einstein bulls, and Einstein bulbs in general, are often used for an industrial accent piece. They give off a warm yellow light, which works well for mood lighting.
Check out some of these similar finds on Amazon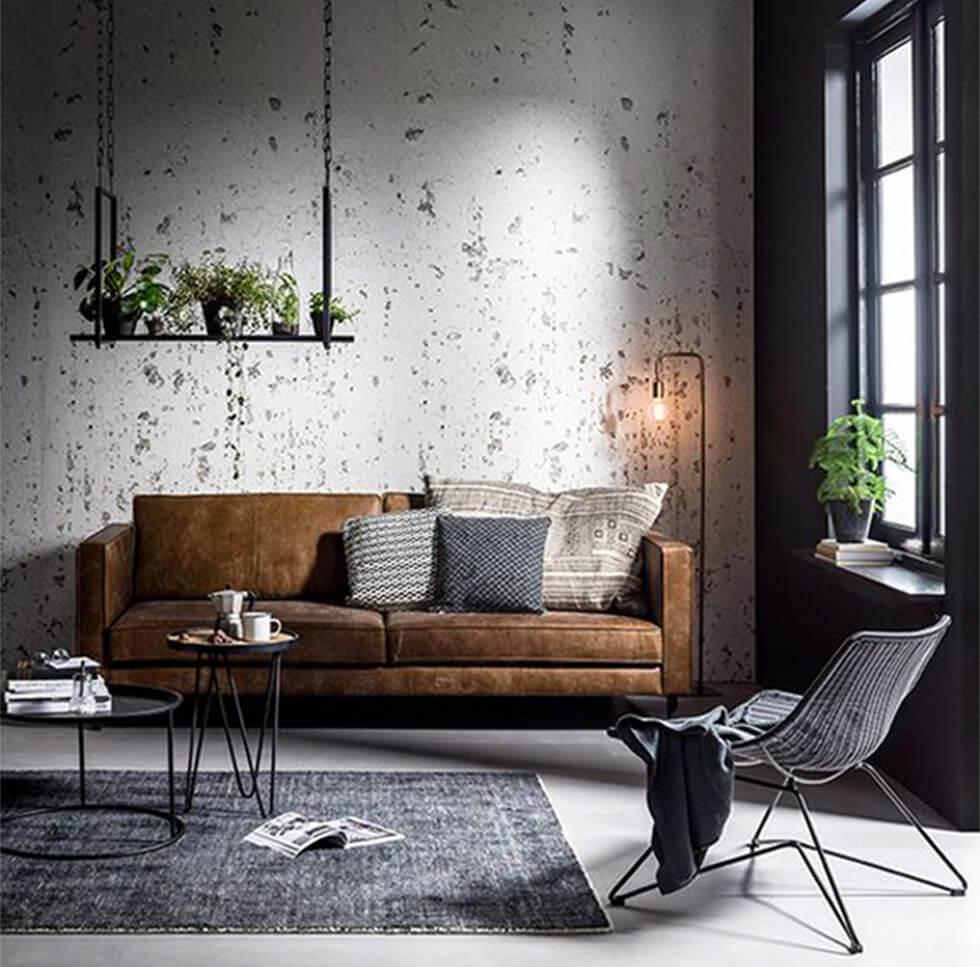 This one is obviously a promo, but the modern industrial elements are there in the wrought iron coffee tables and the metal minimalist standing lamp in the back right corner (which is by Archiology, see below link).
When going for an industrial modern inflected look you will need at least a couple of design pieces which reflect the theme. For example below, we have the industrial black clock with propeller art work on the wall, together with the minimalist black metal tables and industrial floor lamp.
This awesome industrial plant holder (thanks Amazon for the blurry ad link!) can be seen in the above living room. This is a cool way of adding some industrial flare to your living space whilst adding some plants. Here are some cool plants that are hard to kill.
What The Clock
Looking through the industrial modern photos you will have noticed that many contain a large iron or metal-look simplistic clock in the style of the below.
Other styles include this retro type, classic, industrial era wall clock.
Here are 18 more modern industrial design ideas for your living space
The above industrial floor lamp by Brightech is an ideal accent lamp (and a useful light source obviously) for an industrial modern living room or bedroom. This lamp has the prestigious Amazon's Choice sticker, and hundred of positive 4 and 5 star reviews.