An oversized leaning mirror is one hell of an accent piece to include in your cool male living space. It's a maximalist move, which has the additional benefit of making a room appear larger and taller. Place the mirror opposite a natural light source for added natural light.
Oversized leaning mirrors are a recent trend within cool living spaces. Most will have stands to so it gives the impression of leaning against the wall without damaging the paint or wallpaper. The effect is dramatic, obviously you would expect a mirror to be hung up, but having one placed on the ground is jarring and looks awesome. Mixed with other modern living space design tropes like having tonnes of plants (as below) will have a trendy, mid-century modern, effect.
Some of them can be really, really big. These XXL giant mirrors in the below photos are not as common. They seem to be a logarithmic scale larger than the typical large mirrors you can purchase from retail stores, as there probably isn't a large market for them. These elephant-like mirrors are an even more dramatic accent piece to have in your home (once you've figured out how to get them through the door).
But where would you even purchase one of these large mirrors? In order to get these super sized mirrors, you would most likely have to look at your local antique dealerships in your area. As an example, here are a couple of recently sold antique mirrors from British dealer, Puckhaber.
Luckily for us, non castle-dwelling plebs, there are some much more practical oversized accent mirrors you can purchase from Wayfair, who have a massive collection of mirrors to suit any sized home, with all sorts of frames and styles to suit any male living space. Capitalize on this upcoming trend and stand out from the crowd. Be sure to check out the customer photos of the below mirrors to see what they look like without professional lighting etc.
#1 Bonum Farmhouse / Country Full Length Mirror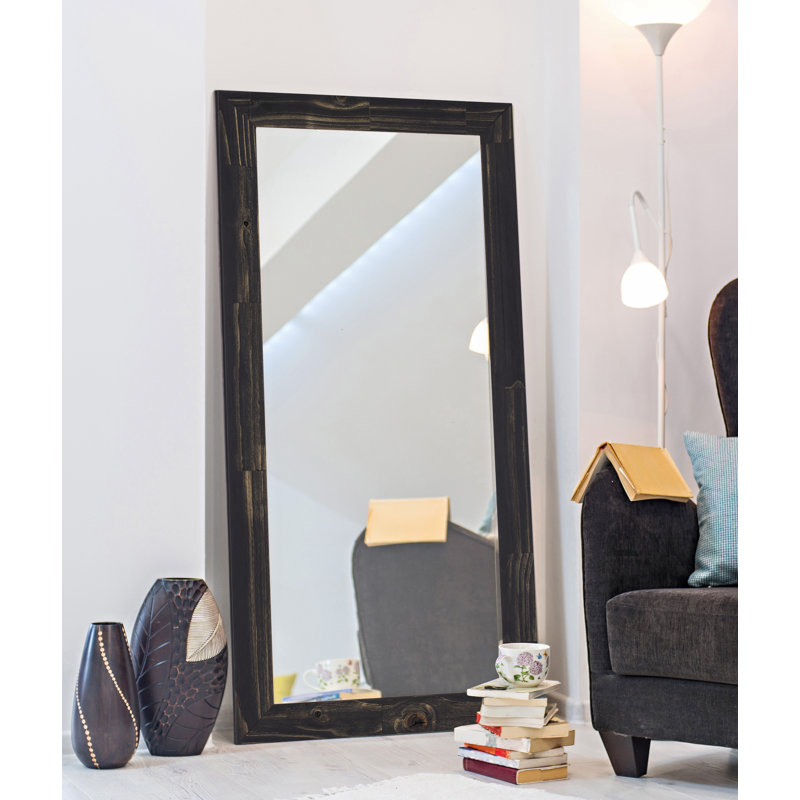 This mirror has a large, rustic appearance. The mirror will make a statement in your cool male living space. This mirror has a wood plank design which brings the and outdoorsy, farmhouse vibe to your living space. I'm also getting a coastal drift-wood vibe from this mirror.
#2 Alpharetta Rectangle Oversized Wall Mirror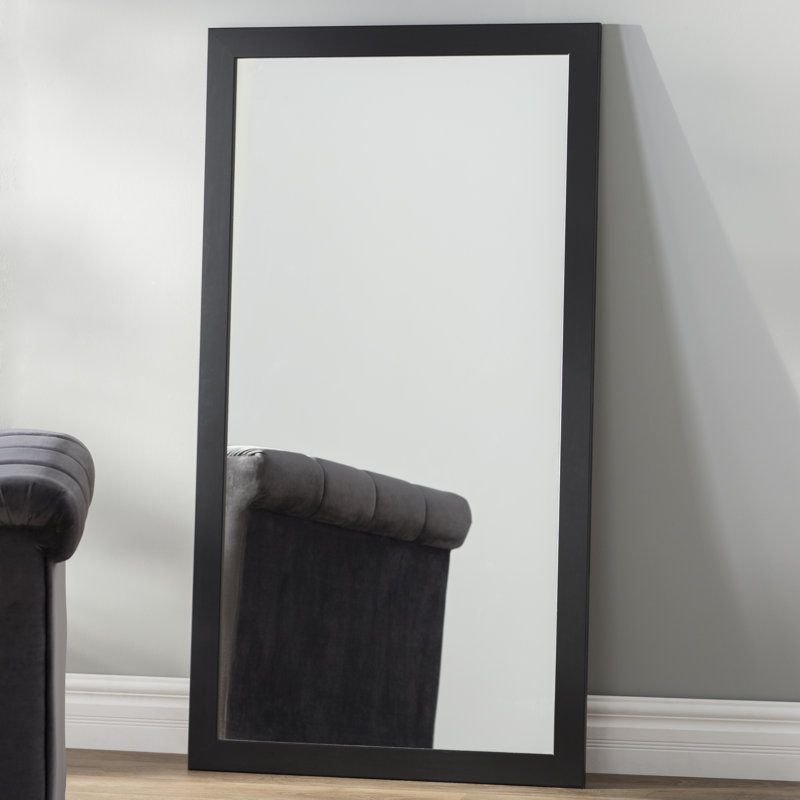 Not much to say on this one, if you have a minimalistic or black and white dominated room then this basic plain black-framed simple mirror might be for you. Made in the USA.
#3 Niangua Traditional Beveled Overmantel Mirror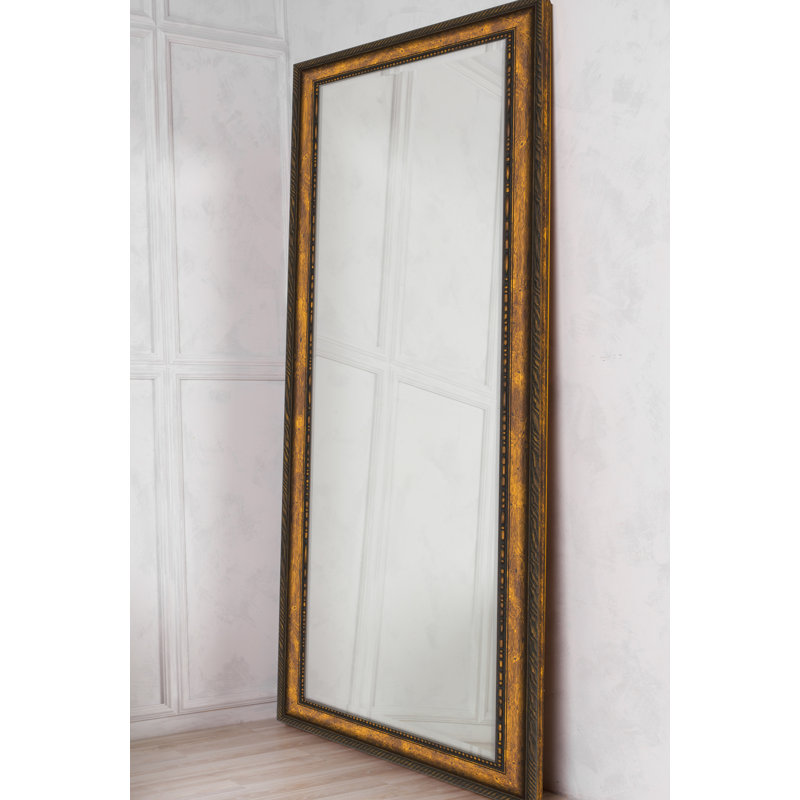 This mirror was crafted in the USA. The frame consists of a resin frame finish in copper and bronze for an ancient Grecian feel. The mirror looks like an aged antique – without the price tag. The inner border is beaded and the outer border is rope-like. This mirror has multiple textures, perfect as a maximalist piece.
#4 Glam Accent Mirror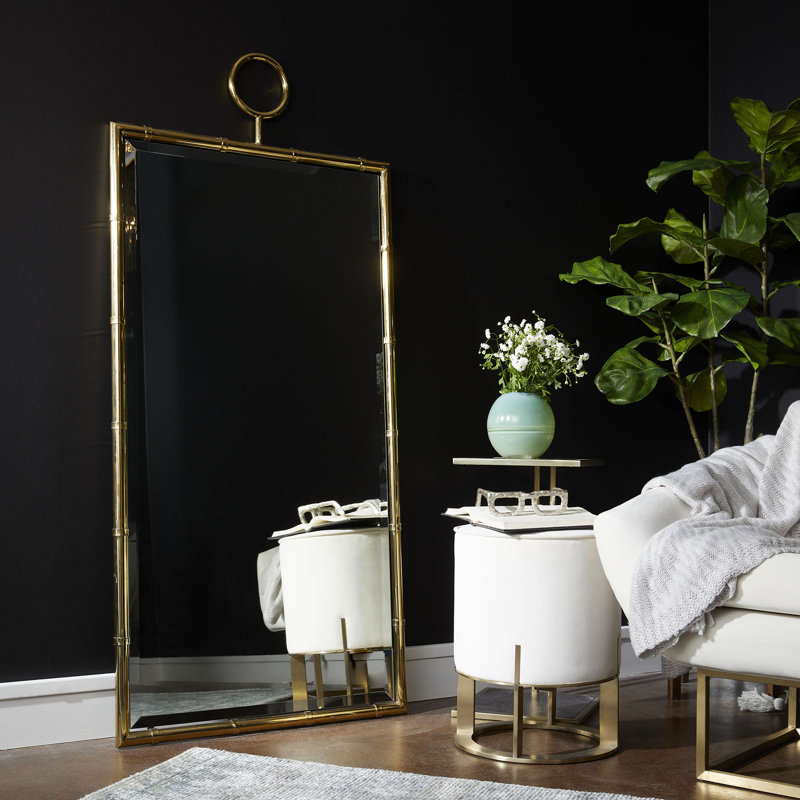 Super fancy – high end – brass rimmed mirror. This would work really well in a large bedroom we think – try and match with a dark wall (as shown) for maximum impact of the gold color.
#5 Kowalewski Rustic Full Length Mirror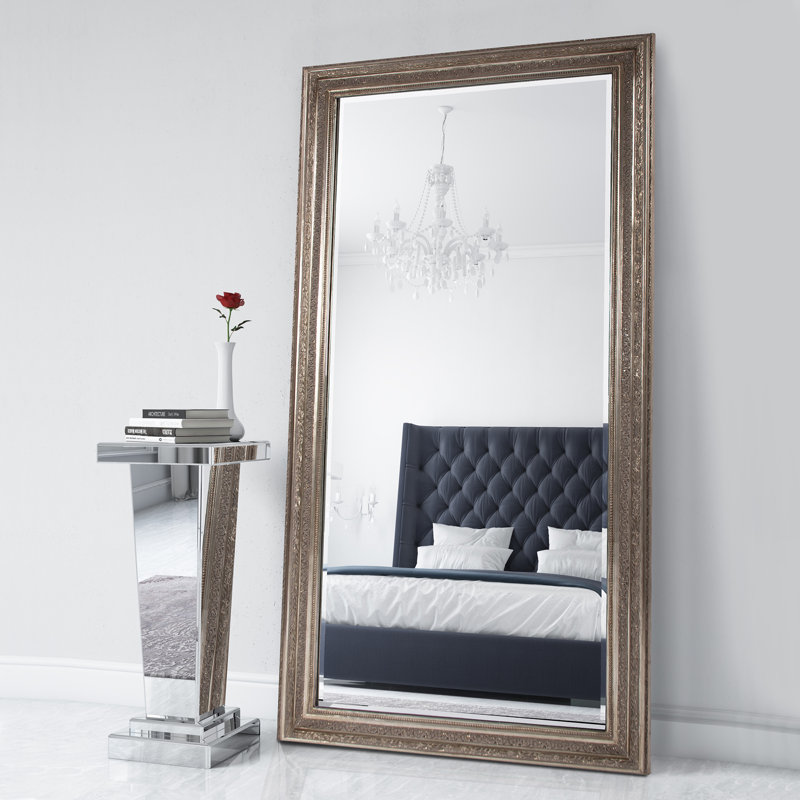 This mirror has a wooden frame with a detailed, almost Victorian-like by intricate design. The glass in slightly bevelled for added ostentatiousness.
#6 Lucilla Floor Full Length Mirror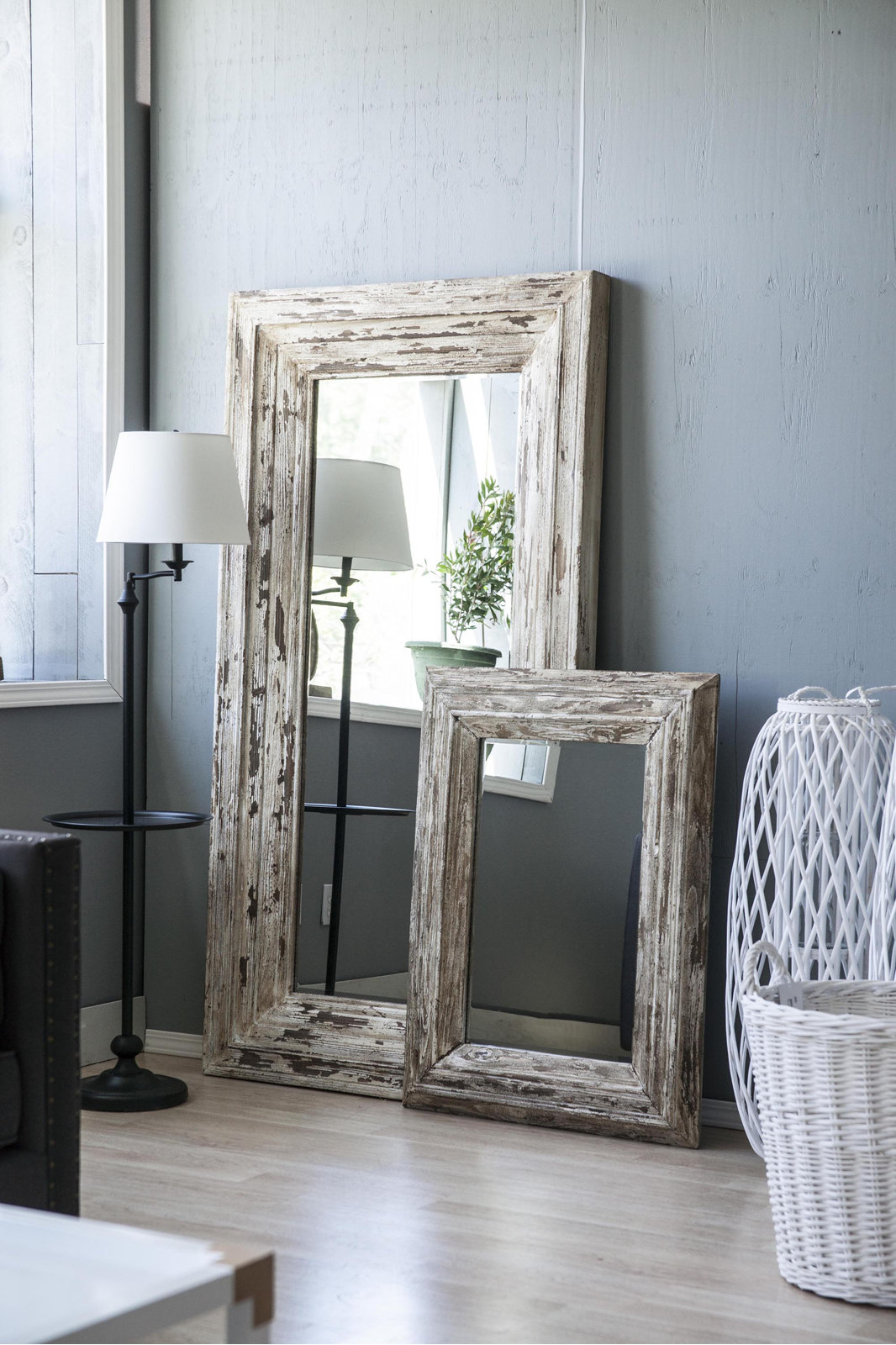 Wooden framed mirror with white paint, rubbed for a distressed and trendy look.
#7 Lotte Modern & Contemporary Full Length Mirror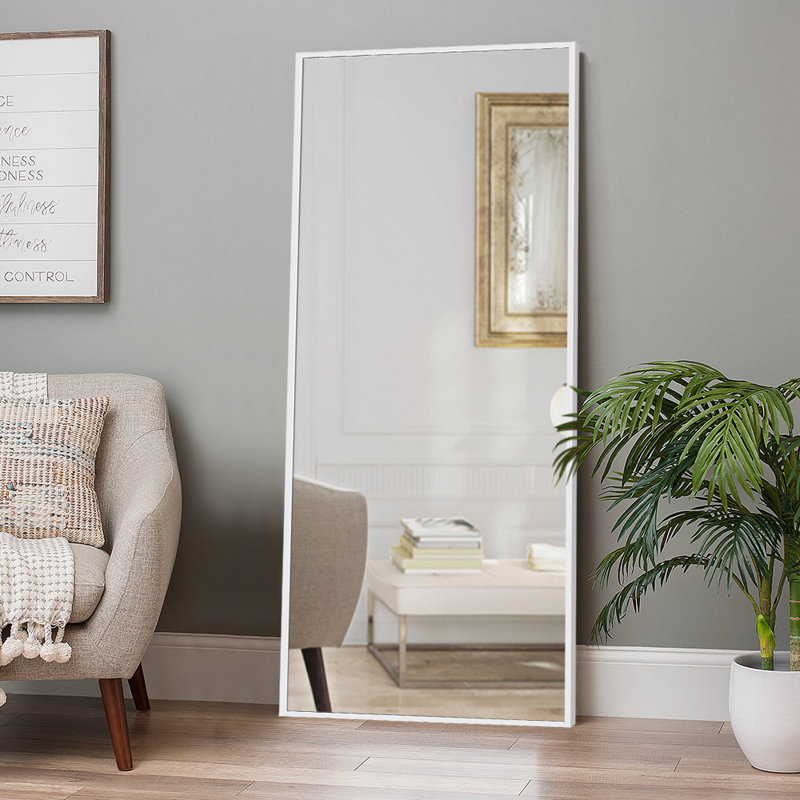 Elegant and minimalist mirror made of shatter proof glass (so perhaps a good purchase if you have children or get really drunk regularly). The frame is made of white plastic.
#8 Traditional Texan Full Length Mirror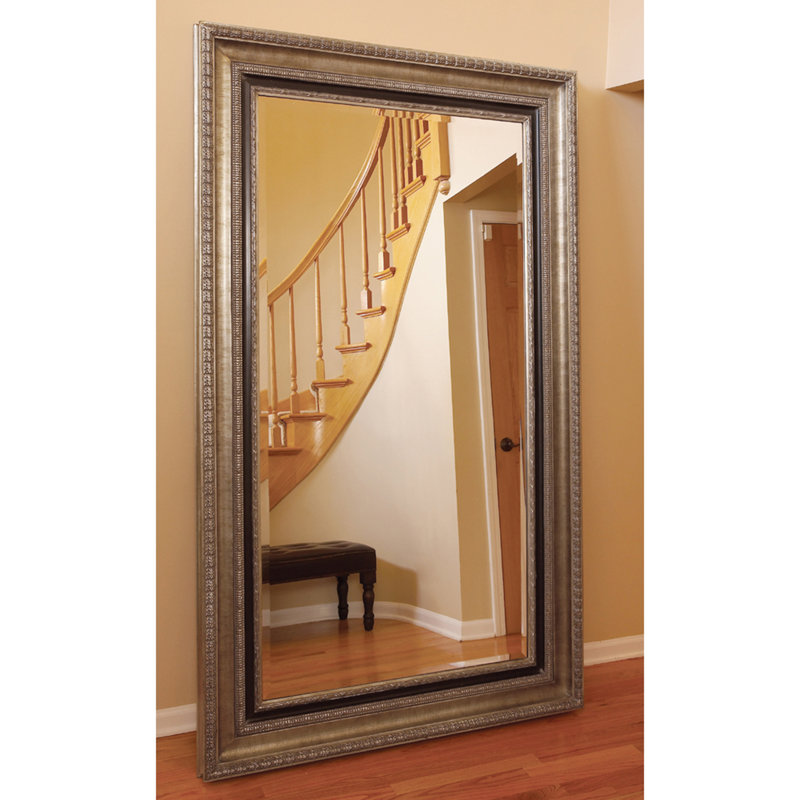 Wooden frame with a bronze finish and black inset. The glass is bevelled for added effect.
#9 Fraga White Satin Full Length Beveled Body Mirror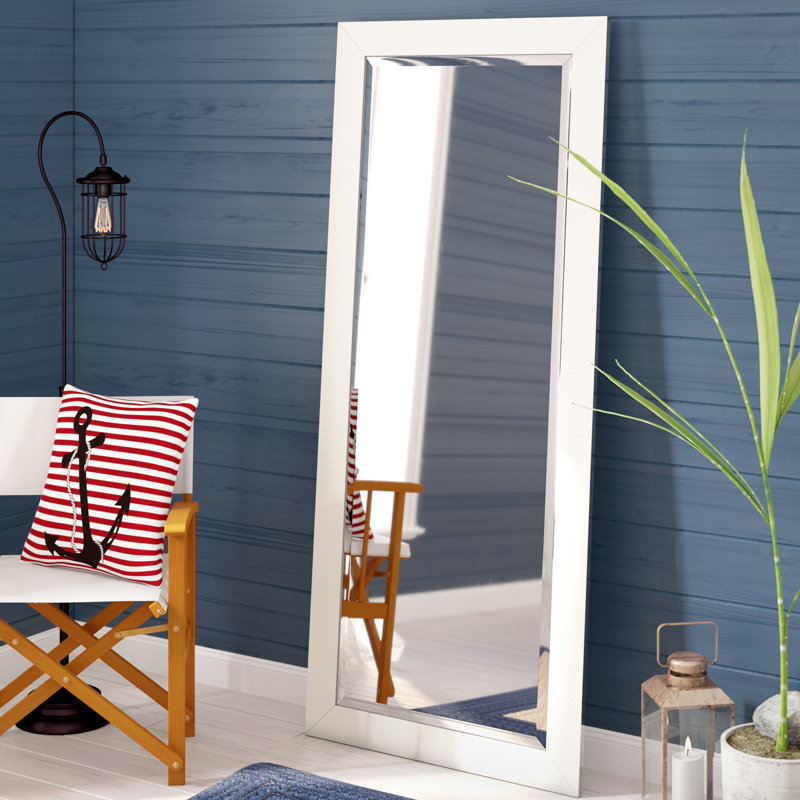 White wooden framed with bevelled mirror. Long, full length mirror, ideal for checking outfits.
#10 Musgrove Wall Mirror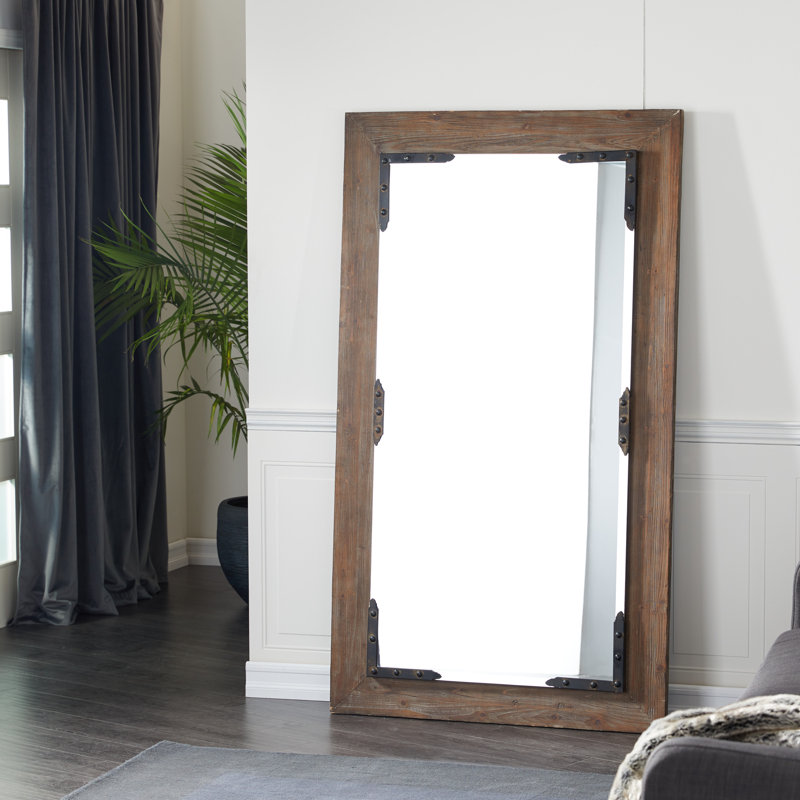 This mirror has a substantial heavy-duty appearance, but is actually made from lighter materials. The wood is made from fog-free MDF fir wood. The metal additions on the frame give the mirror an industrial look.
#11 Abshire Modern & Contemporary Rectangular Full Length Mirror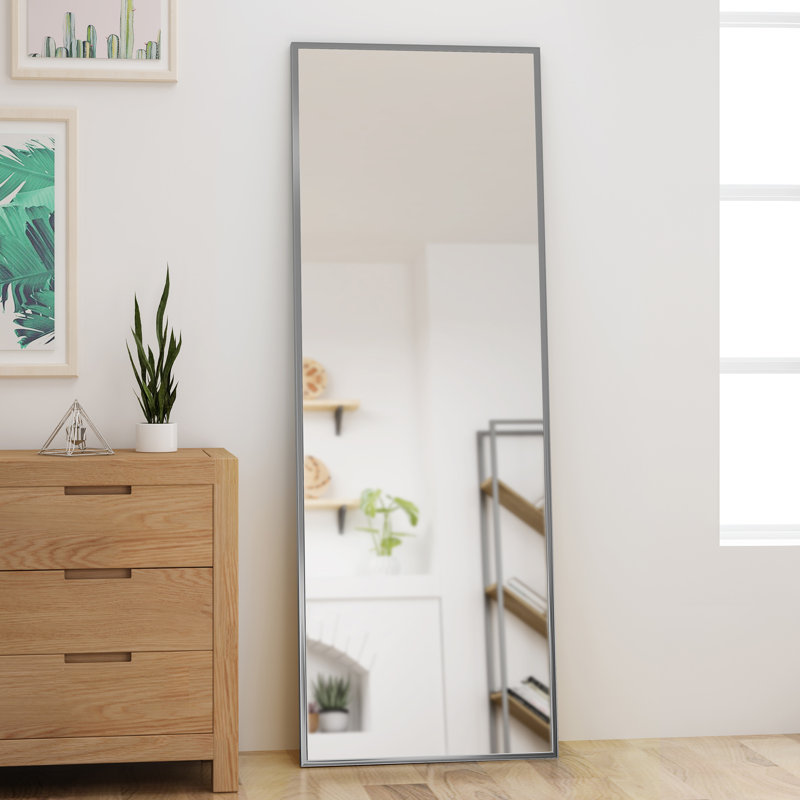 Super minimalist and long leaning mirror with thin silver frame. the frame is made from stainless steal.
#12 Aden Rustic Full Length Mirror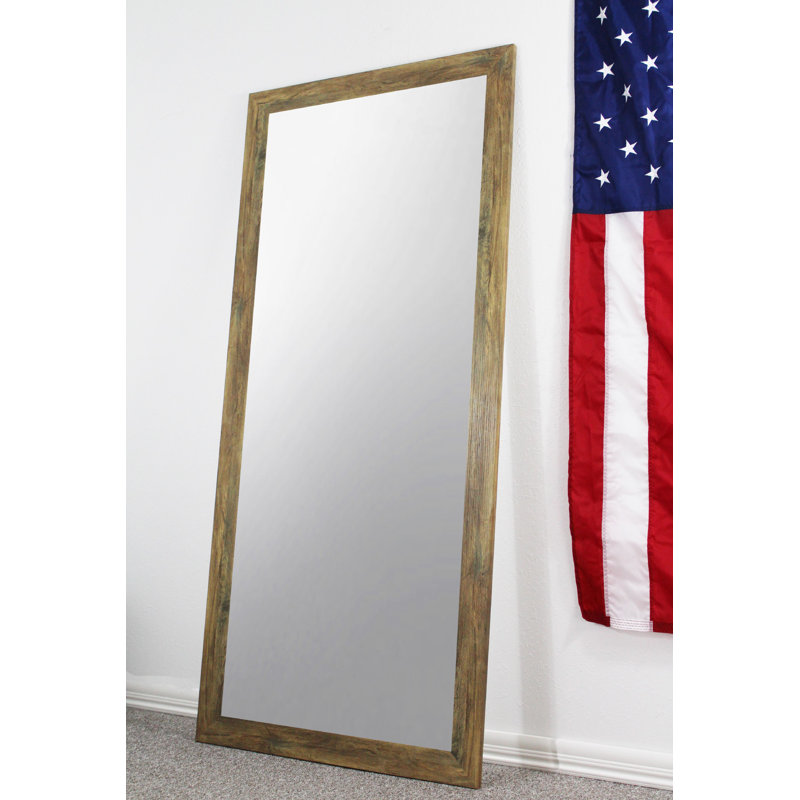 Made in the USA. This mirror comes in three sizes. The frame is made from rustic brown wood.
By James
Thanks for reading, check out some of our other articles below.
Modern rustic décor is characterized by natural (or neutral) colors…
We talked about maximalist décor in this article here. It…
A gallery wall is an awesome idea if you want…