Renoir (1841-1919) painted in the impressionist style, emphasising off the cuff, quick paintings with rapid brush strokes. His paintings vary in price from $78 million to being sold for $7 at a flea market.
Compare Hitler (left), Churchill (middle) and Renoir's (right) paintings, below. Maybe I should have put Hitler's on the right come to think of it… For a painter who's paintings routinely sell for 10s of millions, Renoir's art doesn't exactly stand out does it? In fact, the paintings have been subject to a unique shit-talking movement, known eloquently as Renoir Sucks at Painting. There's certainly no impressionism in the groups name.
How would you describe the above paintings? Hitler's art was described as "utterly devoid of rhythm, color, feeling, or spiritual imagination." by the Fine Arts Vienna when he was 18; and Churchill's art was described as having 'no sense of beauty' by his own niece! But the shit-talking Renoir's art received, even in his lifetime, is a logarithmic scale above this.
Art critic Albert Wolff wrote this about Renoir's 'Study. Torso of a Woman in the Sunlight': "Try to explain to M Renoir that a woman's torso is not a mass of decomposing flesh with green and purple spots that indicate the state of total putrefaction in a corpse!"
Fellow Impressionists also piled on. Mary Cassatt described his late nudes as "enormously fat red women with very small heads,". Friend, Edgar Degas, once called his work "as puffy as cotton wool.".
The emperor has no clothes (something Renoir would probably approve of). The ever present undercurrent of Renoir hate once more coalesced into being; this time in the form of Instagram account 'Renoir Sucks at Painting'. The Instagram account gained notoriety among the snooty art world back in 2015 after the staged a playful boycott of Renoir in Boston.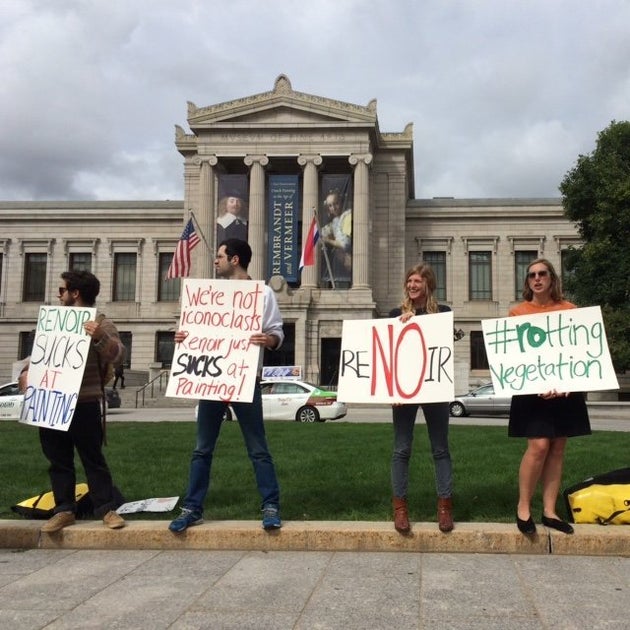 We cannot pretend that everything old and French has class. Let's have a look at some impeccable shit talking of Renoir's art by the group. From sharpie eyes, fusiform uncircumcised fingers to demonic beflippered mutants….
How an art critic may describe it: Rich in gestural brushstrokes. Fluid and congruent.
How Renoir Sucks describe it: 'these incoherent scribbles degrade our cultural wealth. Renoir can only be understood as an Aesthetic Terrorist. And this, right here, is perhaps his most nefarious work of treachery.'
How an art critic may describe it: warm, auburn tones remind one of midsummer in the meadows.
How Renoir Sucks describe it: 'boiled, tortured prawn mutant.'
What the experts say: Simplistic and rustic charm, there are no straight lines in nature.
How Renoir Sucks describe it: Utter treacle. Indefensible.
How an art critic may describe it: Soft and gentle hues, warm, subtle, beguiling.
How Renoir Sucks describe it: So many affronts with this #steamingpile…The appalling distance between shoulder and nape. But I mean, look at her fucking hands. Cloven and and blury. Look at them. Fingers, fusiform and uncircumcised. Look at her fucking hands.
How an art critic may describe it: All that glisters IS gold, hypnotising and gilded.
How Renoir Sucks describe it: 'Is that her fucking hand, or a cuttlefish!? Actually, Cuttlefish are cute oceanic animals that are hyper intelligent masters of color and contrast. #Renoir, on the other tentacle, is not a master, he just sucks at painting.'
How an art critic may describe it: An April day, pleasant and flower clad, care free and soft.
How Renoir Sucks describe it: '… paintings of beflippered demon mutants with #sharpie eyes immolating their poor dog, normalize the practice of setting dogs on fire…'
How an art critic may describe it: Nourishingly innocent and endearing.
How Renoir Sucks describe it: This #steamingpile is titled: "Small-headed Child who Power-Lifts with #sharpie_eyes & uncircumcised fusiform fingers struggles to defend #Renoir's painting abilities on social media.".
How an art critic may describe it: playful and quaint.
How Renoir Sucks describe it: 'If you stare into the void of her dead sharpie eyes, you feel, as usual, nothing. But stare in the void between her hand and the spoon, keeping in mind this abomination hangs in a museum, and you start to get visions of the archangel and the apocalypse And that's not even the most unsettling part of this boneless Renoir mutant's cthulu hands. LOOK AT HER FUCKING PINKIE. Just. Look. At. It.'
When the Renoir Sucks movement organiser was challenged on his motives he replied: "Since when are irony and humor meaningless motives?". Which sounds somewhat ironic now, coming from a Californian.
Of course, the movement did create a cause célèbre among the less self aware of the art world. The pointy heads at the Guardian, predictably, failed to get the tongue in cheek joke of the movement. Renoirs own descendant, below, also adds her name to the list of people who take the internet too seriously; exclaiming 'when your great-great-grandfather paints anything worth $78-million then you can talk'. Touché?
Renoir's Great-Great Granddaughter
In reality, Renoir wasn't terrible. In his later, 20th century, paintings he had terrible arthritis and had to have brushes taped to his hands; which explains most of the terrible paintings above. But, ultimately, he was a founding member of an original art movement, which emphasised being out in nature and painting what you see; probably a welcome difference from the ultra realistic style which came before it. Just like punk destroyed classic rock in the 70s, or grunge obliterated the pompous 80s rock scene, you could argue impressionism did something similar.
Continuing the incongruent musical conclusion; Renoir is like Nickelback, truly awful and shallow at times – but don't pretend you weren't singing along to 'How you remind me' back in the day.
By James
Modern rustic décor is characterized by natural (or neutral) colors such as browns and greys and dull yellows, comprised of various types of wood bathed in warm lighting; but with all the trappings of a typical modern decor, which could include scandi type mid-century modern decor, or Japandi for example. These might include a nice…
We talked about maximalist décor in this article here. It is essentially the opposite of minimalism. So for tips on maximalist interior design for men, or some tips on maximalist home décor, wall décor, living room décor and bedroom décor (look we have to get keywords in somewhere), then you've come to the right place.…
A gallery wall is an awesome idea if you want to fill in those blank spaces on your walls, for example the annoying space above your TV. What is a gallery wall? A gallery wall is a series of posters or photographs, pieces of art and other ornaments arranged in a pleasing manor on your…