We have found some awesome two-seater loveseats for cool male living spaces; using inspiration from decades of rock and roll history, rock fashion, the biggest and best rock bands and frontmen. Whilst listlessly scrolling through lists of products, shamelessly looking for a sales angle, we found a bunch of cool two-seater love seats for a rock and roll living space. Loveseats doesn't exactly sound very rock and roll does it? Well, think of the name as a vestigial organ, one whose etymology is a mere descendant from a fairer time. The flowery name probably comes from ladies of yesteryear who used to seat on them in palaces and stately homes; the seat could accommodate their large skirts. Whilst some woman with ass implants may benefit from loveseats in the traditional sense; most women and men wear skinny jeans – so loveseats are just fashionable, mini couches. So if you live in a small apartment, for example, just think of loveseats as comfortable, small couches.
Why be boring when you can be bawdy? Many of these loveseats will make good accent pieces of furniture, for their small by impactful impression they have on a room. Consider them for a masculine reading corner, a place to chill and drink coffee, or cozy place to site with your better half.
Loveseats are perfect for your balcony (if it stays dry!) or that corner of your living room that you don't know what to do with! Here are some inspirational shots of some to kick off our article. You know what, we're going to include small couches under the loveseat umbrella as well.
Disclaimer some links in this article take you to Wayfair or Amazon where we may get a referral profit. Check out our About section for more info on this.
#1 Strokes Inspired – Connie 58 Black Faux Leather Loveseat
This one is inspired by the rock and roll loveseat from The Strokes – Under Cover of Darkness music video. Just chuck in a red bolster cushion to complete the aesthetic. You could even chuck in some of these lampshades, all available from Wayfair if you want to complete the aesthetic. Oh go on then, lets chuck in a similar octagonal table as well. A nice rock and roll combo. Throw on the leather jacket and get comfy on this two-seater couch for your apartment.
#2 Rock & Roll Moorhead Chequered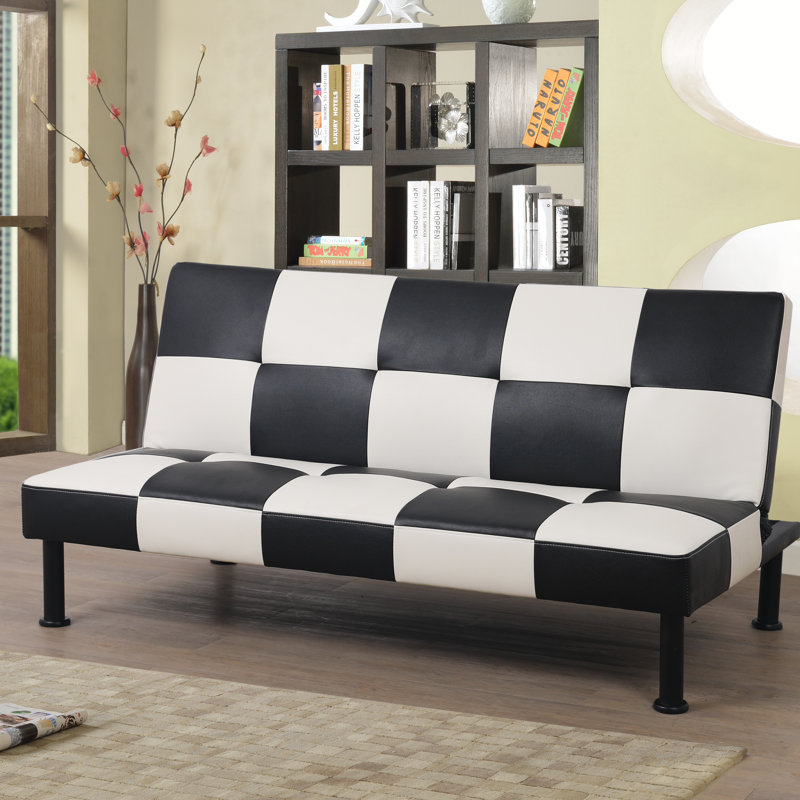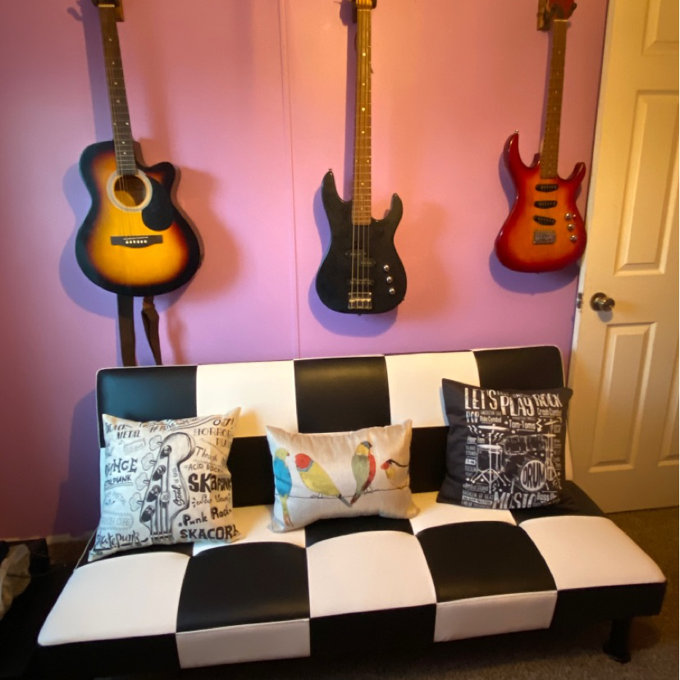 This loveseat converts into a bed, which is pretty awesome. Black and white checkers has been adopted by many different rock and rollers over the years. If you are a 90s child and have clicked on our article title, well then you probably had some similar items to the below:
Don't pretend you didn't… If you are an older reader; or just have good music taste, you may associated rock and roll checkers with Freddie Mercury's cat suit from the 70s. Those who are familiar with the below are also glad I've cropped it at the waist…
#3 Eilidh Leather Sofa
This leather sofa reminds us of a battered old, brown, leather jacket. This premium leather sofa comes in distress top-grain leather coverings. This is a very expensive sofa, but we're sure if you click through on the link you could find a similar recommendation; or, if you cashed out in GameStop stocks then you will be fine price wise! You know in Radiohead's Creep when they drop the G chord? You know the one. We all know it. This loveseat will provide that vibe. It would also be a pretty cool gentleman's man cave couch.
#4 Marshmallow Sofa Loveseat?
Wholly whale genitals, that's expensive. We can't show the price but it's pretty up there for what it is. But you can see why we included it right? It looks like a drum kit. If you put this in front of Keith Moon circa 1970s, he would probably try to blow it up, mistaking it for an intact drum kit.
#5 Sainz 51″ Wide Genuine Leather Armless Loveseat
In a similar vein, you can grab this one from Wayfair for less money. This one is available in four colors; black, green, white and red. Its unique style makes it one of the few truly unconventional sofas. One other factor about these sofas is that you can connect several of them together in a line. Wouldn't you love to have one of these in your guitar corner in your bachelor pad? It's a no contest.
#6 Aida 48″ Wide Faux Leather Armless Loveseat
This blue lips inspired loveseat also doubles up as storage, you can simply lift the seat area up to chuck all of your guitar leads and pedals in; that's how I'd use this seat. Add some funkiness to your reading corner or music corner with this campy and fun chair. Picture it next to a large swiss cheese plant and a fender Silverface amp, nice.
#7 Armless Loveseat
This loveseat reminds us of the scrawling's on the back of a dive bar's door. The loveseat has a very affordable price tag and will add a modern feel to your home. God knows what the writing actually says but it looks cool. This would make a nice small sofa for a man cave.
#8 Sinclaire 43.75″ Loveseat
This one is perfect if you had some emo in you during high school. Now, I'm not sure if this one is pushing the definition of loveseat, but it looks pretty small; however the chair can seat 2 apparently – according to it's description. An ideal accent loveseat for the guy or gal who was into buying red and black chequered wrist sweat bands in high school. This would also be a great man cave couch.
#9 Leiva 47″ Wide Armless Settee
Made in the USA this pin stripe style black and gold loveseat inspires the black and gold finish of Marshall amps. An ideal loveseat for a cool guitar corner. The loveseat is build on a solid pine wood frame. Once again, a perfect small couch for a man cave.
#10 Lord Raffles Settee Loveseat
Heavy metal music video styles lion loveseat. This is a premium item due to the craftmanship involved. Apparently it takes more than a week of handcrafting for the lion heads, paws and gothic detailing. Upholstered with velvet, this beautiful loveseat wouldn't look out of place in a Meatloaf music video. Named after lord Thomas Samford Raffles, the guy who founded the British colony of Singapore. This would be a great small two-seater loveseat for a vampire cave, I mean man cave.
Modern rustic décor is characterized by natural (or neutral) colors such as browns and greys and dull yellows, comprised of various types of wood bathed in warm lighting; but with all the trappings of a typical modern decor, which could include scandi type mid-century modern decor, or Japandi for example. These might include a nice…
We talked about maximalist décor in this article here. It is essentially the opposite of minimalism. So for tips on maximalist interior design for men, or some tips on maximalist home décor, wall décor, living room décor and bedroom décor (look we have to get keywords in somewhere), then you've come to the right place.…
A gallery wall is an awesome idea if you want to fill in those blank spaces on your walls, for example the annoying space above your TV. What is a gallery wall? A gallery wall is a series of posters or photographs, pieces of art and other ornaments arranged in a pleasing manor on your…