Square mirrors are out, round ones are in. That's what I heard. This is an emerging mid-century modern trend, which works particularly well in cool male living space, or masculine living rooms, cool bathroom decor, hallway design et cetera, et cetera, ad nauseum.
Why does it work so well with mid-century modern decor style? Mid-century modern style is all about eliminating straight lines and having more natural curves and 'movements' in your home. So, naturally, a round mirror compliments this decor style. A big square mirror, in a way, is almost working against the theme. Don't get me wrong, big square mirrors are still an awesome addition to a striking mid-century modern living space; but considering a round one can level up your room. Am I just talking pure shit? I could be. See for yourself below, I have masterfully edited the below scene – an uber mid-century modern living room – to have square or round mirrors in them so you can see what we mean by decor congruency. The links present in this article, if clicked, will direct you to amazon.com and Wayfair. As an Amazon Associate I earn from qualifying purchases; so please buy a Fabergé egg.
Wow that really highlights how bad I am at Photoshop. But hopefully you can see the point. It's like waves in an ocean. You don't often get a square wave. That would look unnatural.
Cross swell at Île de Ré, France
When I wrote that I didn't expect to actually find square waves existed. But point proven hopefully, that does indeed look unnatural. And, in a mid-century modern themed room, we want to stick to 'natural lines' as much as possible for the full effect. The human eye is drawn to incongruency, after all, it may be life or death. If you were to step into those square waves, you are walking into a rip-tide. When a person smiles without their eyes moving, they probably aren't actually happy. And, when you put a big square mirror amongst a mid-century modern living room, it can look slightly off. Okay so the stakes aren't exactly big, but let us peruse some cool round mirrors anyway.
Okay, that's enough inspiration, here's a few we've selected from Wayfair and Amazon, below.
PexFix 30" Wall Round Mirror, Modern Brushed Metal Frame
Simplistic and thin-line, minimalism framed mirror, measuring 30 inches in diameter. Made from anti-rust aluminum alloy.
TinyTimes 31.5″ Modern Large Round Mirror
Large metal framed round mirror is elegant and simple; perfect for mid-century modern decor. Made from Al-alloy with a brushed frame, this is a high quality multi-layer mercury mirror which will last for years on end.
Rustic
22 inch, 30 inch or 36 inches mirror. The mirror is a fetching and characterful rustic styled round mirror. Match this with some rustic oaken shelves for a good combo.
Go Big or Go Home
Go big or go home. Some people have starting placing huge round mirrors in their houses or apartments, which creates a really powerful and bold feel to a room. Here's a handful of awesome 40+ inchers from Wayfair.
Stansfield Round Accent Mirror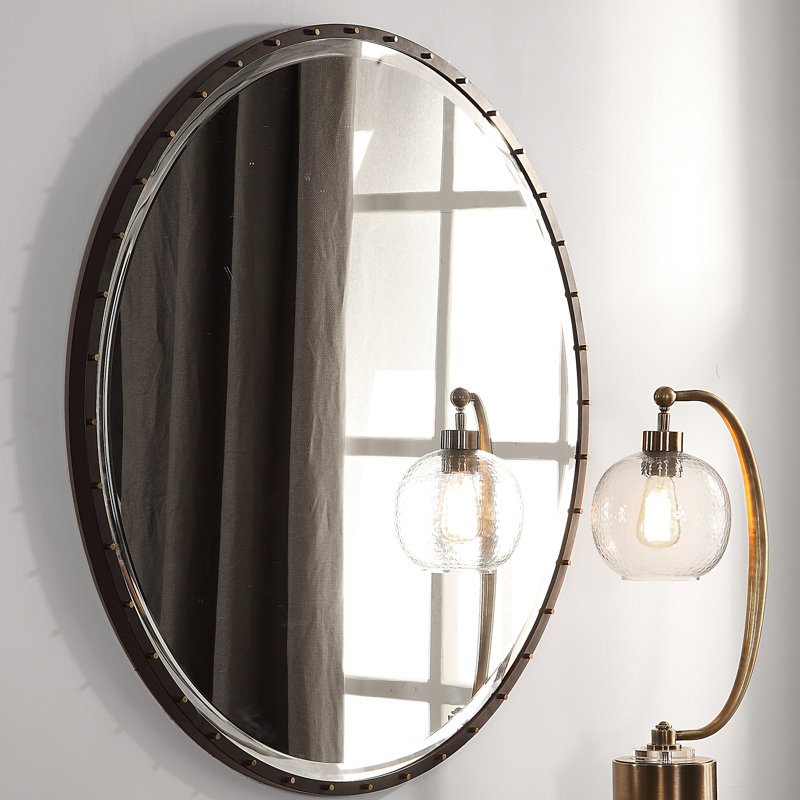 This urban – 42 inch – industrial designed style round mirror features a elegant but large iron frame, in a rustic black style; enhanced with exposed, antique gold, smooth screw caps.
Loftis Modern & Contemporary Accent Mirror
Made with a manufactured wooden frame, the mirror's frame is a bold and chunky exterior which will add a masculine rustic charm to your living space. The mirror has a non-bevelled edge for a excellent reflection, letting light bounce off nicely. The mirror has a pre-installed D-ring included for easy installation.
By James
Have I made up 'Future Modern'? Yes, absolutely I have. But somebody also 'made up' bread, but it's still a thing; I'm not suggesting that one day you will eat this article, but I am drunk whilst writing this so this sentences predicate doesn't make any sense. Let's look at, what we here at FurnishHim, […]
After the popularity of my last book review – 5 Bookshelf Every Mans Bookshelf – I decided to write a sequel. The angle on this article is alternate motivational books, that is to say, books which are not directly marketed as motivational books, however, are nonetheless motivating. #1 Total Recall by Arnold Schwarzenegger The smug […]
Maybe you have just moved to the coast, have invested in a beach hut or need some beach themed décor for your man cave. Or perhaps you just want to add some cool driftwood style furniture to your living room, bedroom, hallway, porch or bathroom to give it some character. We have combed the web […]