We previously did 20 masculine reading corners for your home, now we are doing a – sort of – sequel with 20 mid-century modern reading corners for masculine living spaces.
At the end of the article we will masterfully photoshop our very own inspired – totally original – mid-century modern reading nook idea for a cool bachelor pad or home. But first, peruse the below photos for inspiration. If you really like what you see we have a brief description on each photo – including product information, if we were able to find any.
Disclosure: some of these links will go to our affiliates – Amazon (not Wayfair) where we may receive a small cut of any qualifying purchases.
#1 Kentia Palm and Cedarburg Chair
A cool and fresh mid-century modern reading corner with an unusual, lighter blue, unsaturated wall color. That looks to us like a Kentia palm tree – which we wrote about here – with some basic abstract art; you could easily buy a large canvas and some acrylic paint to recreate one of those.
The chair is a pricey Cedarburg chair from Wayfair. The floor lamp is an Edris metal globe floor lamp – we managed to find an identical, but gold, version on Amazon. Which would still work in the above photo, aesthetically. The side table seems to be some kind of hammered copper accent table; with generic brass vases for effect.
#2 London Luxury
We had to include this one, from our London look article. There appears to be three mid-century modern reading chairs in this one living room, located in a luxury flat in London. Shame about the small TV though. We guess with all those reading chairs you won't be watching much TV anyway…
#3 Cow Hide
Nice mid-mod cow chair here. These chairs are surprisingly expensive. The chair is a Schermerhorn Faux Leather Slipper Chair – available to buy on Wayfair. Very Scandinavian; very mid-mod. Very cow-y? Pair with a nice skinny side table and load it up with books and you're good to go. Chuck out that dreadful rug and replace with a distressed one and you're well on your way to a cool reading corner.
#4 Window Side
This one is a little bit harder to replicate than just buying an accent chair for a reading nook; but it is one to consider if you have a window and some carpentry skills.
#5 Mid-Mod Leaning Lamp
A brown leather Kardial Retropolitan lounge chair, with a jet-black leaning arc floor lamp. This is a really nice, swoopy looking mid-mod reading nook for a large living room. Stick a colorful throw on the chair for a splash of color and you have a more modern reading nook look.
#6 Scandinavian Cool
This one is extremely cool, mind the pun. We have no clue on the decor within this one. If you know drop us a comment. Even the log holder is mid-century modern.
#7 Modern Lounge Chair
This is an increasingly popular mid-mod chair that is popping up more and more on promos. The all modern lounge chair, available from Wayfair. We assume the ottoman is available from there too, however, we couldn't find it. It's not exactly the nicest ottoman anyway, it sort of looks like a Rumba with legs…
#8 Barcelona Chair
Barcelona chair within a reading corner – one of which you can buy here on Amazon. These accent chairs also have a matching ottoman… if you can find it.
#9 Recliner with Ottoman
Sigh… we couldn't do this article without mentioning the Eames style recliner with ottoman. It looks super cool with the backdrop of the bookshelf in the background. If we had this recliner I'd probably be the most well-read gentleman of all time. We will probably buy one soon to do a feature on. However, not the official Eames chair, which is $$$$, go for one of the Wayfair imitation models, which are in the 100s.
We have to say though, every time this recliner comes up, it does look somewhat naked without a cowhide rug or faux cowhide rug underneath it.
#10 Butterfly Chair
Folding leather and iron butterfly chair. Respect for the leather cow hide rug there. We've written an article on some awesome butterfly chairs you can purchase. These kind of chairs are a super mid-century modern accent chair for you apartment – but they are also nice and comfortable. Butterfly chairs would be ideal for a smaller place, you can fold them up and stash them away at any time.
#11 Laid Back
Kolton lounge chair with yellow throw, floor lamp and a big ass bird of paradise plant. Oh, and don't forget the mid-mod side table there. That light is somewhat industrial looking, we think this reading nook would look better with an arc lamp; which is more in-keeping with the mid-century modern theme.
#12 New York Mid-Century Modern
New York style mid-century modern reading corner. This cow hide LC4 chaise lounge was created by architect James Wagman. If you Google search it you'll find it available from various locations – there are also some copy-cat versions occasionally popping up on Amazon, all though the quality of those is probably not worth linking too.
#13 Huge Bookcase and Mid-century Modern Black Accent Chair
A large bookcase in an open plan living room with a cool, all be it small, black accent chair in the mid-century modern style. Just look how natural and slopey that chair is.
#14 Blue Accent Wall and Mid-Mod Floor Lamp
A skinny black floor lamp overlooking a leggy chair with massive yellow pillow; this definitely looks comfortable enough to read a book or two. Shame about that wall art though… Change the chair to black, get some better art and stick a large plant behind it; that's how we'd convert this into a cool reading nook for men.
#15 Arty Mid-Century Modern Corner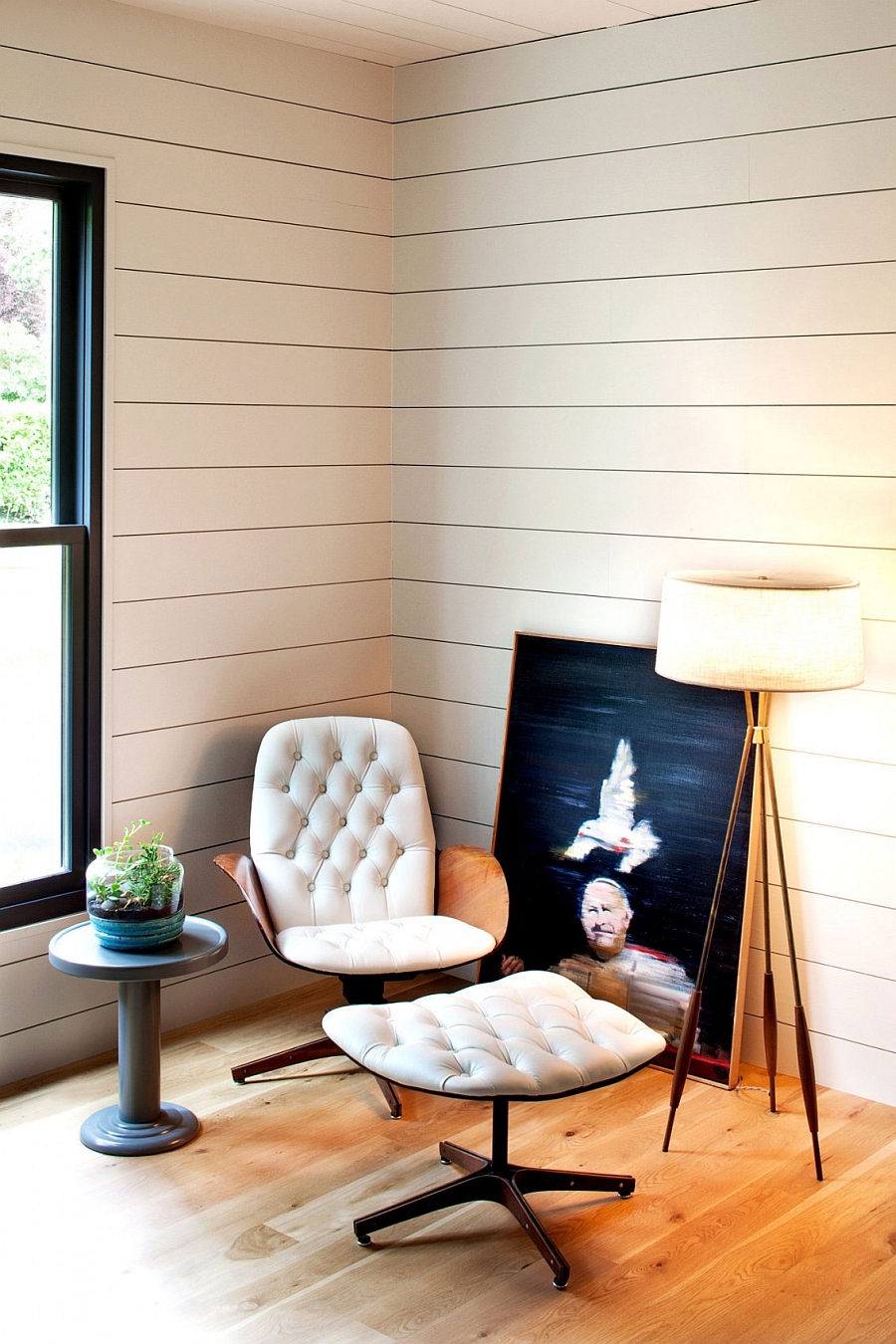 Tripod lamp with a fresh white recliner and ottoman. Placing your art leaning against the wall like that is a pretty modern way to decorate your home. All though, a leaning mirror is probably more practical.
#16 Cool Male Living Space 101
What good is a reading corner if it's not right next to your bookcase? Placing a bookcase right next to your reading nook just makes sense. We will consider this when coming up with our original reading nook idea at the end of the article.
#17 Black Egg Chair
This evil looking black leather egg chair would be a comfy reading nook with powerful presence. Also you'll be able to swivel around and say 'hello, Mr Bond' to your visitors. Pair with a floor lamp and mid-century modern side table for a really cool reading nook for your living room.
#18 Mid-Century Modern Reading Nook with Plants
Lot's of mid-century modern aspects in this room are ruined by that awful rug! Throw it out and replace it with a distressed rug. We do like the idea of populating your reading nook with plants. One large potted plant is easier though, as it doesn't require it's own side table.
#19 Recliner with Large Bookcase
Yes we have already done the Eames style recliner, but this one has no ottoman…so we're counting it! This reading nook was too cool not to count. That floor lamp looks like a dentist light though….
#20 Mini Mid-century Modern Accent Chair
A reading nook isn't complete without a faux, or real animal skin rug. It adds another depth of manliness to your reading nook.
---
We have our inspiration, now it's time to come up with our original mock up idea for a mid-century modern reading nook. You may not realise, but the below has been superbly photoshopped. We've gone for a large Kentia palm with a simplistic mid-mod white bookcase, to create elevation. Also there it is, the Eames style recliner with ottoman – except this one is more affordable than the original Eames. As we always preach on this site, you can't have one of these recliners without the obligatory (faux) cowhide rug beneath it. We've gone for a predominantly white rug which should play well into a fresh mid-century modern living space and match the bookcase.
Check out our link tree below for the items above
Thanks for reading, check out some more of our articles, below. You may like our masculine reading corner article.
By James