If you wanted to maximalize the space around your television, whilst sill keeping in with the mid-century modern style, then consider a bookshelf surround for your television. Remember that friend who always duel-wielded P90s in Call of Duty Modern Warfare 2? Well now you can be the friend who akimbo's his bookshelves. This method is a great way to maximalize vertical space in your apartment and add extra storage to an area that would otherwise be wasted space.
Disclosure; the links in this article will go to our affiliates – whereby we may receive affiliate money of anything ordered through the links – so feel free to buy a some gold bars.
#1 Tribesigns 9 Shelves Bookshelves
This L-shape Tribesigns shelving unit in black metal and wood is an ideal TV stand; as well as a shelf. Place your TV on just one unit, or if you have enough wall space then place two shelving units together, as below. If you have a smaller apartment or living space then having just one creates a cool a-symmetrical look. The unit is high enough for a create TV viewing height. An easy win for a cool and masculine, yet practical, TV corner.
Here's some photos of the bookshelf in action.
#2 Vasagle Ladder Shelf
With nearly 2000 reviews and a four and half star rating you can be sure that you are in safe hands with this shelving unit. Place two beside your TV for some extra storage and a fresh mid-mod look. Ideal if your TV is abutting a large wall and you need s something to fill out the wall with. The wooden shelves are constructed from particle board; but have a nice vintage/rustic wood finish for a natural aesthetic – without a big price tag. The main frame is constructed of steel.
Or try doubling up two different kinds of Vasagle shelves for some impactful a-symmetry; which adds character and intrigue to a room.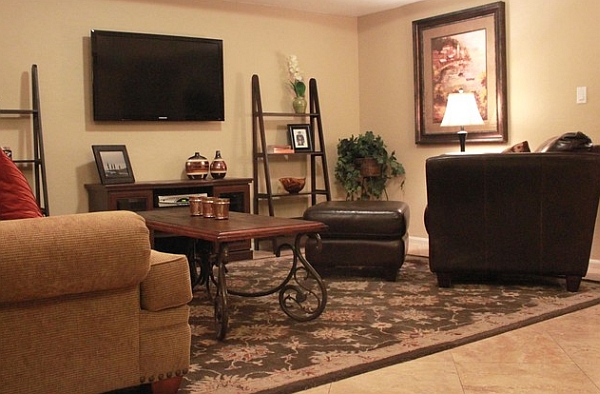 #3 Tribesigns 2 Pack Bookshelf Bookcase
Two storage shelves, you can place it in a row or separately each side on your TV stand table (see below for table). The shelf is constructed of particle board with a nice rustic dark wood finish and a steel frame. Ideal if you like your symmetry and neatness. Load it up with books and ornaments to keep your living space tidy. Listed as a mid-century modern style, however it's really more like industrial-modern. Each shelf measures 12.99″ high and can hold 35lbs/15kg – per shelf- more than enough for some sweet Greek hero statues.
For the full effect, use the below coffee table by Vasagle to place your TV on.
Vasagle Industrial Coffee Table
#4 Nathan James Theo 5-Shelf
This, Nathan James, 5-tier bookcase has a fresh, mid-century modern and minimalist appeal to it. Placing two of these bookshelfs beside your TV will not over-clutter the area, and it will provide a nice symmetrical feature to your living room. This product comes with a generous warranty period (apparently an entire lifetime) and is constructed of metal and oak-laminate wooden panels in a dark and vintage-like hue.
Check out the duel bookshelves in action, below.
Thanks for reading, if you need some reading suggestions then check out our popular articles on books: Help Yourself: Don't Buy Self Help Books – 5 Books for Every Man's Bookshelf.
By James