If you wanted to maximalize the space around your television, whilst sill keeping in with the mid-century modern style, then consider a bookshelf surround for your television. This method is a great way to maximalize vertical space in your apartment and add extra strorage to an area that would otherwise be wasted space.
Disclosure; the links in this article will go to our affiliates – whereby we may receive affiliate money of anything ordered through the links – so feel free to buy a Lambo.
#1 Tribesigns 9 Shelves Bookshelves
This L-shape Tribesigns shelving unit in black metal and wood is an ideal TV stand; as well as a shelf. Place your TV on just one unit, or if you have enough wall space then place two shelving units together, as below.
Here's some photos of the bookshelf in action.
#2 Vasagle Ladder Shelf
With nearly 2000 reviews and a four and half star rating you can be sure that you are in safe hands with this shelving unit. Place two beside your TV for some extra storage and a fresh mid-mod look. Ideal if your TV is abutting a large wall and you need s something to fill out the wall with. The wooden shelves are constructed from particle board; but have a nice vintage/rustic wood finish for a natural aesthetic – without a big price tag. The main frame is constructed of steel.
Or try doubling up two different kinds of Vasagle shelves for some impactful a-symmetry; which adds character and intrigue to a room.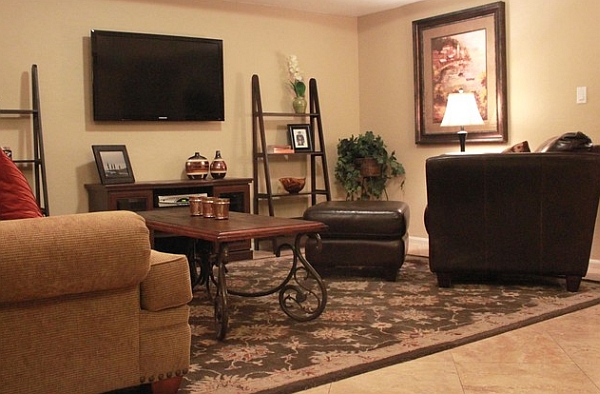 #3 Tribesigns 2 Pack Bookshelf Bookcase
Two storage shelves, you can place it in a row or separately each side on your TV stand table (see below for table). The shelf is constructed of particle board with a nice rustic dark wood finish and a steel frame. Ideal if you like your symmetry and neatness. Load it up with books and ornaments to keep your living space tidy. Listed as a mid-century modern style, however it's really more like industrial-modern. Each shelf measures 12.99″ high and can hold 35lbs/15kg – per shelf- more than enough for some sweet Greek hero statues.
For the full effect, use the below coffee table by Vasagle to place your TV on.
Vasagle Industrial Coffee Table
By James
With the summer veering around the corner and the prospect of punitive mask-measures at actual bars, we thought we'd provide a fun alternative for you to enjoy the summer with your friends at your very own garden tiki bar. No Karen's with tape measures telling you to stand 2m away, no skinny bartenders asking if […]
Right, time for a cheeky fluff piece. We have collated, with some care, a range of sexy looking cool male living space interior design ideas. Because sometimes you can't be bothered to read and just want to happily scroll through some images for inspiration. In fact, you probably aren't even reading this are you? We've […]
In this article we have some tips and inspiration for small dining area ideas if you live in a studio apartment. The below images will also help you to learn new ways on how to arrange furniture in living room dining room combo – all though it really depends on you room layout. In general, […]