Mirrors mirrors on the wall… We spoke about gallery walls in our article here: How to Decorate The Wall Space Above Your TV For Male Living Spaces – FURNISH HIM. A mirror gallery wall on the other hands (other wall?) is an interesting twist to just having artwork and photographs on a gallery wall – instead you just have a bunch of mirrors; which adds a unique and interesting 'accent' to your home or apartment. That is interior décor jargon for 'it's cool'.
Add your own vibe to the mirror wall, for example a round mirror gallery wall, gold mirror gallery wall, vintage mirror gallery wall, a mixture of different shapes and styles, or; even a tennis racket mirror wall! Mirrors will make a room seem bigger and brighter, so for a small bachelor pad or small room, adding a mirror gallery wall will not only be an aesthetically pleasing feature, but also a useful one. Disclosure; the links in this article will go to our affiliates – whereby we may receive affiliate money of anything ordered through the links (so please feel free to get a gold bar).
You can get masculine wall mirrors too, if you're furnishing a cool male living space or man cave, a good tip for this would be to have a mirror hanging from a thick hemp rope, as below. What could be more masculine in terms of interior design than things suspended from rope? Sending out Master and Commander vibes into your masculine living room.
Well, we're coming near the end of the article and its time to pump in some more keywords so Google doesn't ruthlessly bury it in its algorithm graveyard. Well, we hope this article has given you some inspiration for men's bedroom ideas, floor mirror in living room ideas, wall mirror decorating ideas. Additionally, check out some of the round mirror sets, below.
Some Ideas For You Guys
DIY Mirror Gallery
Put three of these round mirrors together on a wall for a cool effect. For an added effect you could rotate them 90 degrees to add a quirky a-symmetry to your wall. In fact, I'm so convinced that would look cool I've gone and Photoshopped that (badly) so you can see how cool it would look.
Look at that! It's certainly unique. To complete the look, stick some cool large plants next to that unit: Hulking Huge Plants For Your Apartment – FURNISH HIM.
Don't DIY Mirror Gallery
If you don't want to mess about finding your own mirror wall set then many outlets do a mirror gallery wall set; such as the below 7 Piece Blanford Modern Frameless Mirror Set from Wayfair. Wayfair also do several other sets, click through the link, below (not currently an affiliate link!) to check out some more.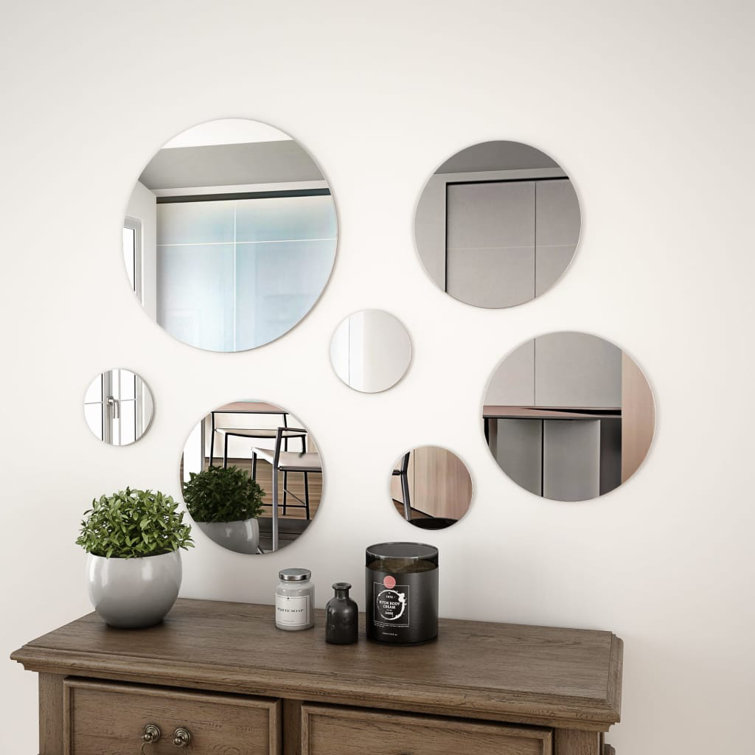 Thanks for reading. Check out some of our other articles, below if you are furnishing a new house or apartment, or need some cool male living space ideas!
Modern rustic décor is characterized by natural (or neutral) colors such as browns and greys and dull yellows, comprised of various types of wood bathed in warm lighting; but with all the trappings of a typical modern decor, which could include scandi type mid-century modern decor, or Japandi for example. These might include a nice…
We talked about maximalist décor in this article here. It is essentially the opposite of minimalism. So for tips on maximalist interior design for men, or some tips on maximalist home décor, wall décor, living room décor and bedroom décor (look we have to get keywords in somewhere), then you've come to the right place.…
A gallery wall is an awesome idea if you want to fill in those blank spaces on your walls, for example the annoying space above your TV. What is a gallery wall? A gallery wall is a series of posters or photographs, pieces of art and other ornaments arranged in a pleasing manor on your…