I'm sorry, I didn't have to do that totally out of date 50 Shades of Grey joke title, but I did anyway, for the memes. And for the click bait… What did you expect with a website name like this anyway? A sexy grey living room screams sophisticated, if you want to go for a mature and classy look for a living room, look no further than a grey color scheme; one of the most popular living room color schemes. Of course, if you find yourself on this article and want to go in a different direction for your bachelor pad, then you could check out our awesome Maximalism decor ideas for men. If you are thinking of re-painting your walls grey then check out our article on how to paint a wall if you havn't done it before.
The added bonus of a grey room is that grey, being a neutral color, can go with any other colors, so you could use our handy color guide to add some accent color, should you choose to go with a cool grey living room for your male living space. So, here are 20 awesome hand picked grey living room ideas for masculine living spaces, for you to consider for you man cave or bachelor pad or whatever pad.
Disclosure: The links present in this article direct you to amazon.com. As an Amazon Associate I earn from qualifying purchases. For more information see our About section.
#1 Plants in a Grey Room

Image Link
The white criss-crossed mid-century modern rug works really nicely within the grey decor. This is a very nice modern and trendy livign room design. Check out our super easy plant guide, on hard to kill plants for your living spaces. Note how they have textured the room with different pillows and throws.
#2 Clean Grey Living Room
Image Link
This one looks staged, but it's still a cool ookign living space to inspire your bachelor pad. The un-saturated ornage stiped pillows work really well here, to accent the dominating grey furniture and walls. Hmm, come to think of it the orange and grey combination seems to be a recurring theme, something to think about if you choose to go grey.
#3 Grey Couch, Grey Carpet
Image Link
The grey couch and grey carpet combo is a popular one when furnishing a cool grey living room. That's a nice throw too, check out our awesome throw article for more throw ideas.
#4 Moody Grey Living Room
Image Link
This grey living space even has a grey wooden flooring, which is unusual, it would probably look better with a more modern natural wood colored floor, with a grey carpet. Note the L-shaped couch, which seems to be a theme!
#5 What Ever the Hell This is
Image Link
Another pretty fresh looking and bright grey living space. I think that cofee table is from Superman's home planet. Interesting choice of wall art there too… This one was more about how you can vary the shades of grey to style a livign room, the actual execution in this cas eis hideous!
#6 Super Fresh Light Grey
Image Link
Cool grey living room right here, this one maybe even too grey! Again, the flooring would probably benefit from having a natural wooden flooring. Sweet giant cactus though.
#7 White and Grey Living Space and Dining Room
Image Link
A nice mixutre of white and grey, with natural wood flooring. Mixing in the white is a good idea to brighten up your living space.
#8 Sexy Charcoal Grey and Black
Image Link
Charcoal still counts as grey! Apparently… This charcoal grey and black living space a super cool male living space idea. The black coffee table is a particularly cool addition to the livign room.
#9 Grey Mid-century Modern
Image Link
This multi-grey shaded living room is in the mid-century modern style. Which we did an article on if you're interested.
#10 Grey and Orange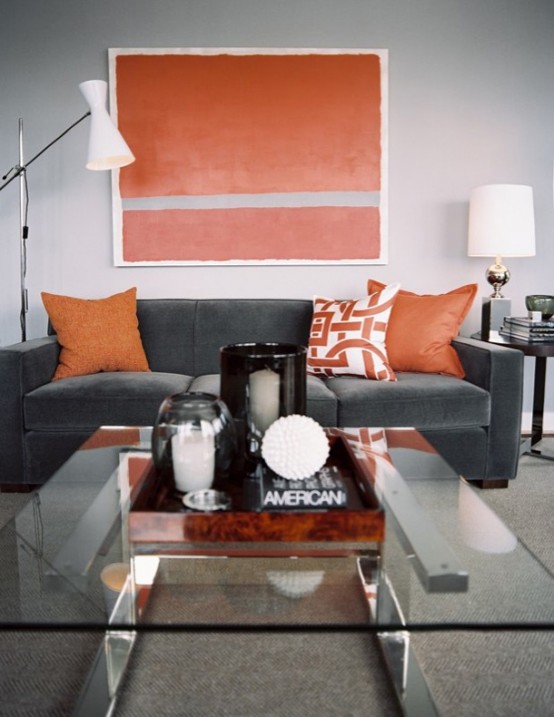 Image Link
Some more grey and orange combos! This big piece of orange wall art really brings the living space together, the accent pillows match and compliment the wall art too, giving the largely neutrally colored room some character.
#11 Charcoal Grey Accent Wall
Image Link
Okay, this one is charcoal grey but this is a good use of a dark grey accent wall with matching rug and couch, showing how you can have a grey living room without having every single item of furniture grey.
#12 Green and Grey Reading Corner
Image Link
Grey reading corner with grey poof. That's a pretty sweet looking leaning mirror too, it has some major The Labyrinth vibes.
#13 Bohemian Grey Living Room
Image Link
Gallery wall and L-shaped sofa with shaggy rug. The light colored wooden panal flooring looks good with a grey living room, as does the light wooden accent chair. This is a very dramatic living space design for a male living space, the creamy white couch is a nice addition to brighten the space up a bit.
#14 Fresh Grey
Image Link
This is a really nice brigh and fresh grey living room. This shows how grey doesn't mean a living space has to be dark.
#15 Light Grey and Orange
Image Link
I guess orange must go really well with grey living spaces! It does look cool, all though remember, any color goes well with grey, as grey is a neutral color. We're not sure you would want to put a candle under some flamable-looking reed grasses but I guess tha'ts up to you…
#16 Black and Orange and Grey

Image Link
Okay, we really really don't reccomend placing a god damn candle on the couch like that, but none the less that is a pretty cool masculine grey living room right there. Again, some more orange pillows, this time with some muted red and dark orange and white pillows, a nice way of accenting the comfy grey couch.
#17 Grey Walls Black Couch
Image Link
Nice black and grey living space. The black throw adds a nice texture to the livign space. This room movies from a light grey wall, to a darker grey carpet, to an even darker grey accent wall, then finally to the black couched anc chairs, this is a great way of transitioning shades.
#18 Orange, Green and Grey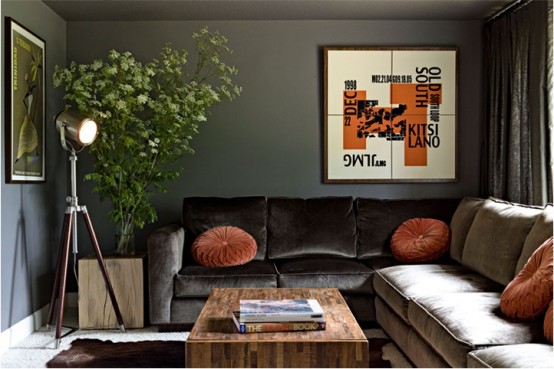 Image Link
Once again, some more orange and grey!
#19 The Picture of Dorian Grey
Image Link
Get it? Really? Well I thought it was funny! This is a super sophisticated living space, with grey walls and dark wood furniture.
#20 Vintage Grey Reading Corner
Image Link
A nice vintage looking reading nook with striking yellow arm chair and floor lamp.
Thanks for reading! Hope these grey living room ideas have inspired you a little with your own homes. Check out some of our other articles on how to decorate your male living space!
 – James