We have so many articles here on Furnish Him about how to arrange your living space; but what about how not to arrange your living space? There are so many advertorial living space images out there with decor designs that are almost too cool; and they may influence some to try and imitate them, resulting in a car crash of a living space. We will have a look at some of those and also some more subtle wats you can wreck your home decor. From the tacky to the too techy, from too black to too white, lets have a look at how not to decorate your home, for men.
Black on Black Crime
These living spaces are too black. Darth Vadar would scoff at this monstrosity. Imagine if you had a black cat, you would never see it in here – things would just mysteriously fall off your shelf and you'd have no idea that it was your invisible black cat who was doing it. By the way if Darth Vader had a black cat, he would definitely call it Darth Maul. There's 'masculine black living spaces' and then there is 'I'm really into BDSM and the dark arts'. This one is the latter. Some caves have a more fresher look that this. What did they think those blue pillows would do? Brighten the place up a bit?
Are they even masculine? It's one of the tropes that will pop up if you were to search 'masculine living space' but I don't see everything being black as particularly masculine. Masculine living spaces should have wood and metal, not just boring black decor. Remember, you actually have to live there. Black should be avoided as the main wall color for your home, instead consider black as an accent wall instead.
M I N I M A L I S T
An anagram of minimalist is laminitus; the inflammation of the laminated tissue that attaches the hoof to the foot of a horse. And we'd rather have laminitis that live in this bare ass apartment. A horse probably has more in their stable. A fancy horse, I mean. Look at that guy in the photo, he's sprinting out of that apartment to watch the Superbowl around his other friend's house – where he can at least sit down.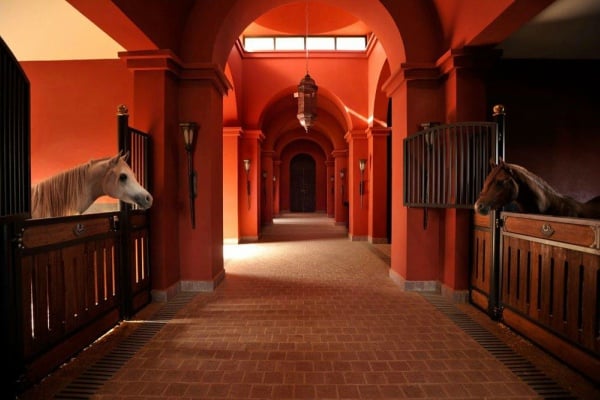 What is Going on Here?
Imagine waking up to this scene from Minority Report. Yes, we're used to having our privacy penetrated by various American tech companies ran by complete dorks, but, come on. We don't want to wake up bleary-eyed in the middle of the night to a dark round figure above our heads. Arc floor lamps and beds do not go.
Whitey
Having too much white space in your living room gives the impression that you live in purgatory. This is what space looked like before the big bang. Sitting around, trying to relax, all the time worrying that a polar bear will sneak up on you. But seriously, you will have to actually live in your living space. Imagine a smudge or stain in this room – it would stand out like a sore thumb; you don't want to be scared to have a Subway sandwich on your couch. Imagine the horror of your guests when they enter your pristine home.
Tacky Neon
Alright, I may have promoted neon lights before on this site; and as the old adage goes those in neon houses should not throw photons… But this cool male living space trope is TACKY my friends. Just look at the above images. This isn't Need 4 Speed and you're not 14 years old – your furniture doesn't need neon lights. Now, I think you can tastefully use backlighting on your TV, only just. But it has to be very low and unsaturated. It is supposed to compliment your decor, not blind it.
Neon done right…
Something like this would look nice. See what I mean by an unsaturated color? Turn it right down and choose an unsaturated hue of your chosen color.
Naked Walls
There's a saying on this website: even cavemen painted their walls. So put some god damn art on your wall (unless it's Renoir). Look how listless and lifeless these walls look. We've done so many articles on how to populate your wall space; round mirrors, how to decorate the space above your TV, making your own pop art and more. Gallery walls are a popular and modern way to decorate your walls, you can even do gallery mirrors – there are so many things you could do with a wall to express yourself. Disregard minimalism, that is for bearded hipsters in sandals, embrace a maximalist mindset.
By James